Important Things to Know About Mammograms
They can save your life.
Finding breast cancer early reduces your risk of dying from the disease by 25-30% or more. Women should begin having mammograms yearly at age 40, or earlier if they're at high risk.
Don't be afraid.
Mammography is a fast procedure (about 20 minutes), and discomfort is minimal for most women. The procedure is safe: there's only a very tiny amount of radiation exposure from a mammogram.
Get the best quality you can.
Our state-of-the art 3D mammography system provides peace of mind and reduces callbacks by up to 40% compared to 2D mammography alone. It also detects 20-65% more invasive breast cancer compared to 2D mammography, which for some women, this could mean an earlier diagnosis and a greater variety of treatment options.

American Cancer Society Resources


Mammograms are low-dose x-rays that can help find breast cancer. The American Cancer Society provides topics that can help you know what to expect.

Resources from the CDC


Learn more about mammograms, symptoms, and how to lower your risk of breast cancer.
Strength. Support. Survival.
Real women share their journey with breast cancer to raise awareness and inspire us all.
Abbie Halbig is a wife, mother of two daughters, and high school teacher. She was only 37 when life threw her a curve ball.  
After dieting and losing about 25 pounds, she noticed that her bra was causing discomfort in her left breast. While performing a breast self-exam, she noticed a lump the size of a small marble. "I immediately had a weird sick feeling when I found it," she said.  
She followed up with her family doctor and a diagnostic mammogram was ordered, as well as a consult with a surgeon. At that time, Abbie believed it was a cyst and the biopsy was just to make sure it was not cancer.  
However, on Oct. 1, Abbie received the news that it was indeed cancer. "I was shocked. I went to the appointment thinking it was nothing but a cyst," shared Abbie. "I felt like I had been punched in the stomach." 
A week later it was determined that Abbie had triple negative breast cancer; requiring her to start chemotherapy immediately.  
Abbie chose to receive her treatment at South Georgia Medical Center's Pearlman Cancer Center under the care of Hematologist and Oncologist Dr. Samuel Ofori. A resident of Adel, Abbie wanted to be close to her family and support system during her treatment.  
Receiving her care close to home also allowed Abbie to continue working while receiving treatment, which her doctors recommended. 
Abbie expressed that she was in a difficult place mentally for the weeks leading up to her first treatment, but once her treatment started, her mindset changed. "As toxic and nasty as the chemo made me feel, I knew it was literally saving my life." 
Abbie had heard from others that watching your hair fall out because of chemo was hard. Therefore, she chose to take control of that process and shaved her head after her first treatment.  
Abbie said the treatments attacked her digestive system and even her mouth. She lost 20 pounds within the first two treatments. Despite the many changes happening in Abbie's body, she tried to keep her life as normal as she could.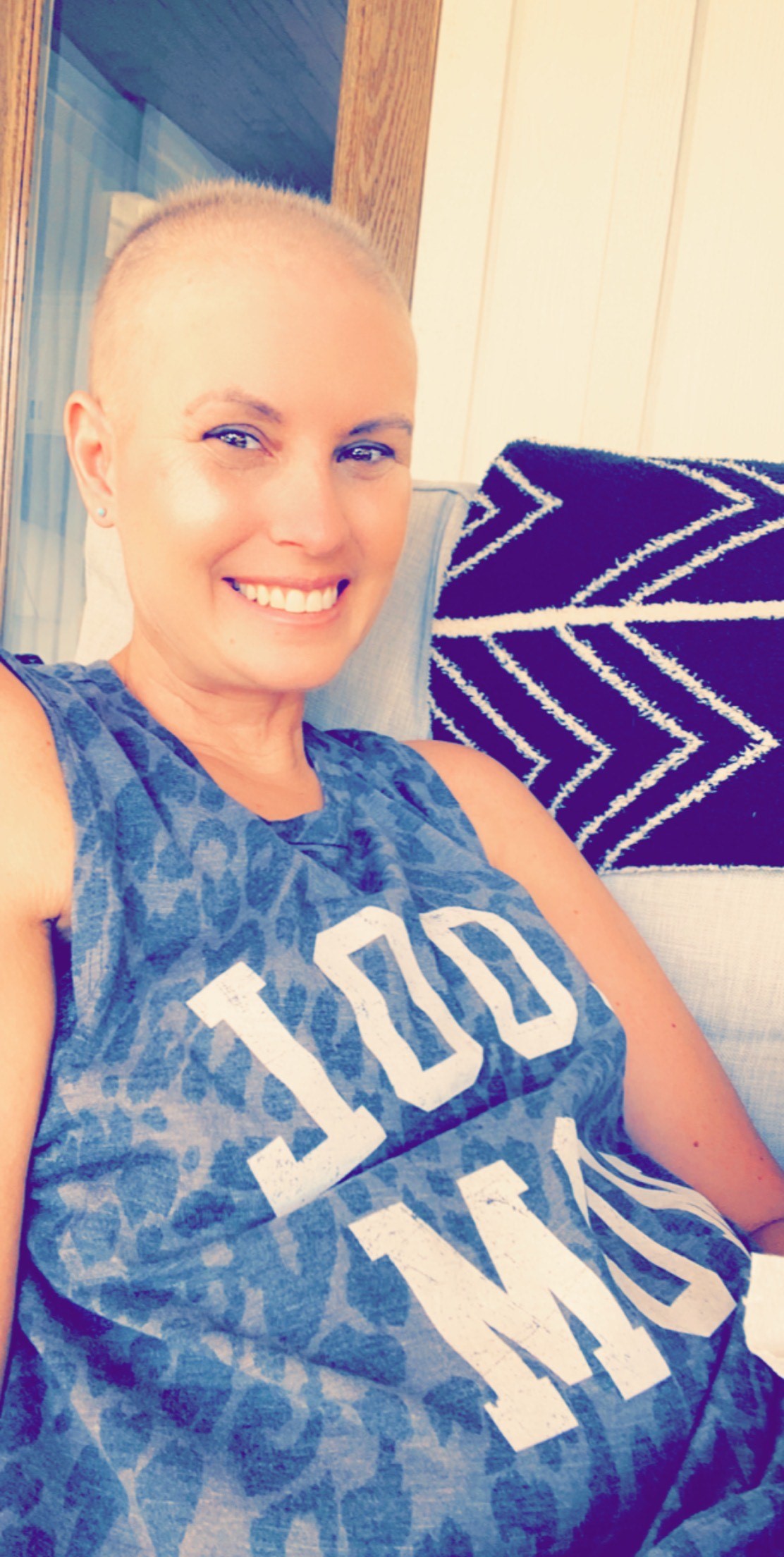 Abbie found that focusing on her daughters helped her remain strong. "I just kept telling myself that I'll be there to see them grow up if I can make it through this." 
She says support from her husband, friends and family was crucial. Abbie encourages others to find a support system and to consult others who are going through the same journey.  
Two weeks after her diagnosis, Abbie met Anna who was also battling the same breast cancer. Anna was diagnosed at the young age of 28, and together they started a breast cancer support group; Southern Breasties. Today, there are more than 125 women in the support group; most from the South Georgia area. 
In regards to chemo, Abbie shared that "all the side effects were well worth it as the chemo worked very fast on my aggressive cancer." Within two weeks, Abbie could no longer feel the once marble sized lump which gave her confidence and hope that the treatment was working. 
She completed eight treatments over the course of four months, which resulted in a complete response to chemo, meaning all the cancer was gone from the tumor.  
She then had her breast and four lymph nodes removed. After undergoing a gene test, it was discovered that Abbie had the RAD51C mutation, which indicates an elevated chance for ovarian and breast cancer. Fifteen weeks later, she had her right breast removed and started the reconstruction process.  
Just recently, Abbie proactively had her tubes and ovaries removed to prevent ovarian cancer.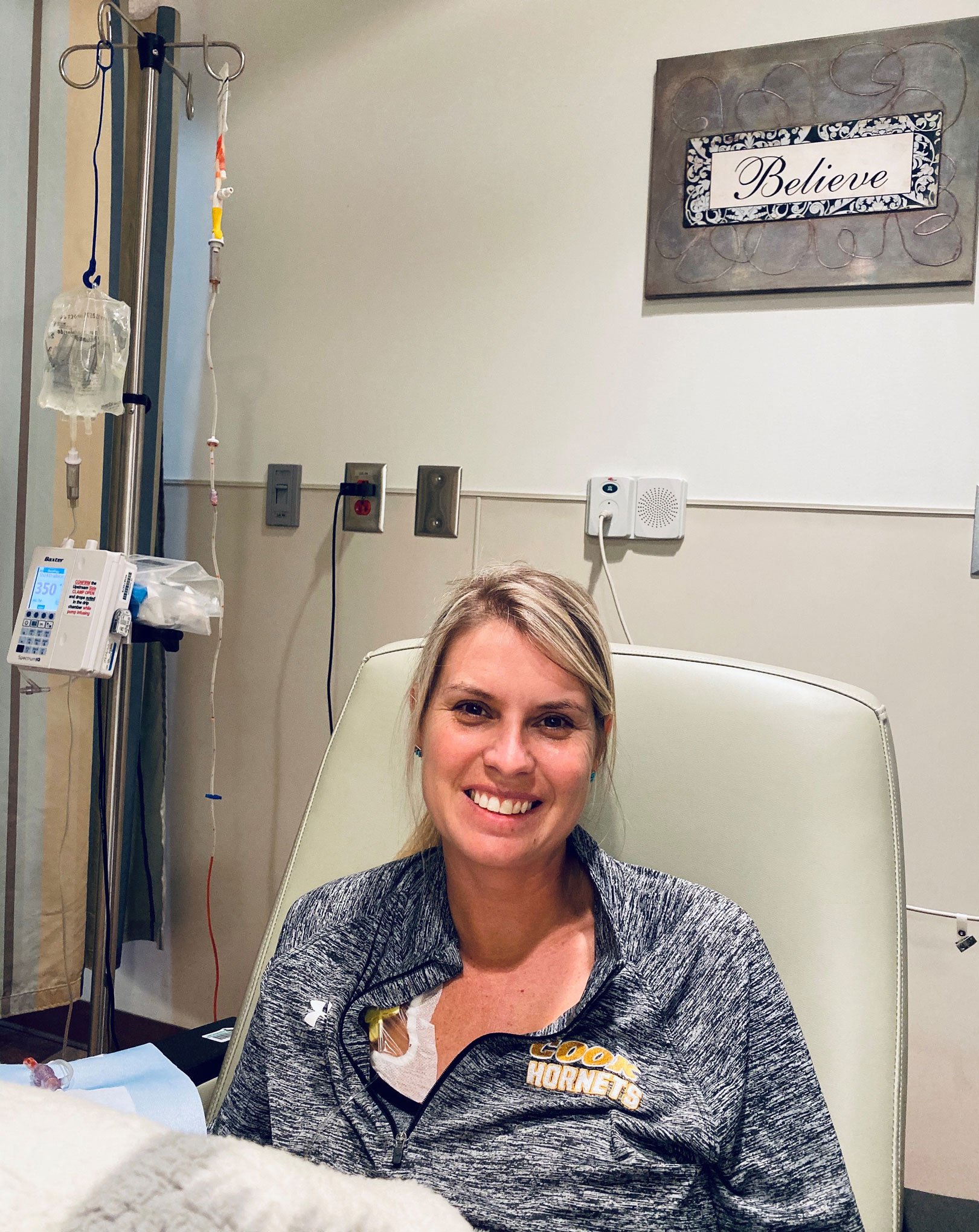 Thanks to the generosity of Abbie's students and parents who held a fundraiser to help fund her medical bills, Abbie was able to pay all of them off in March of last year, which she credits as a blessing from God. 
Demonstrating her continued desire to help others, Abbie is enrolled in a clinical trial at Mayo Clinic for a breast cancer vaccine. She hopes that one day this will be a cure and women will not have to endure the harsh chemo and multiple surgeries as many women do now. 
To those hesitant about getting their mammogram, Abbie encourages those women to not be scared of knowing what's wrong. 
"Early detection is so important and the quicker you get treatment and a plan, the better the prognosis," she says.  
"I honestly had the best experience with all of my doctors and with SGMC. They all know me by name and really went above and beyond to ensure I made it through my journey. Dr. Harvey Miller, Dr. Samuel Ofori, Dr. Bridgett Moore, and Dr. Lex Culbreth: they all work extremely hard and deserve a lot of credit. They're the best!"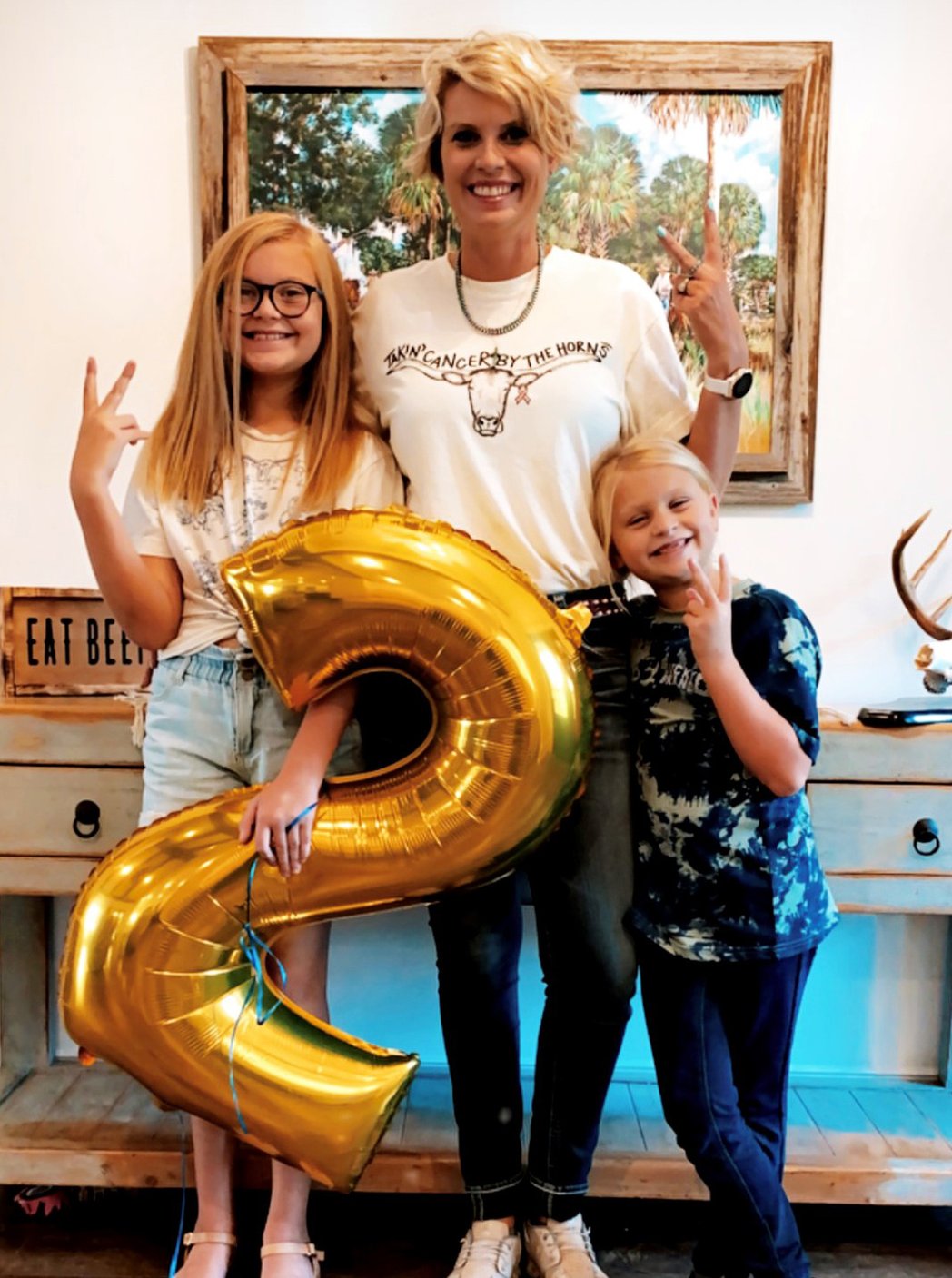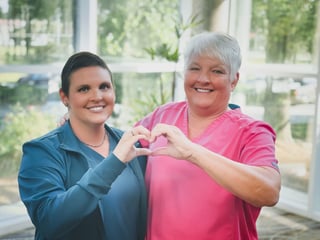 Peggy Knight & Ashley Bennett
Peggy Knight was 48 years old when she noticed a mass in her breast.  

Peggy is a wife and a mother to son, Bo, and daughter, Ashley. She is also a registered nurse who knew to seek medical advice regarding her discovery.  

Peggy received a mammogram and ultrasound, which confirmed her findings and led her to general surgeon Dr. Dallas Miller.  

Dr. Miller recommended a biopsy at which time he removed 10 plugs from the mass, all of which came back negative for cancer. Although the biopsy was negative, Dr. Miller did not feel good about the mass and advised Peggy to have it removed.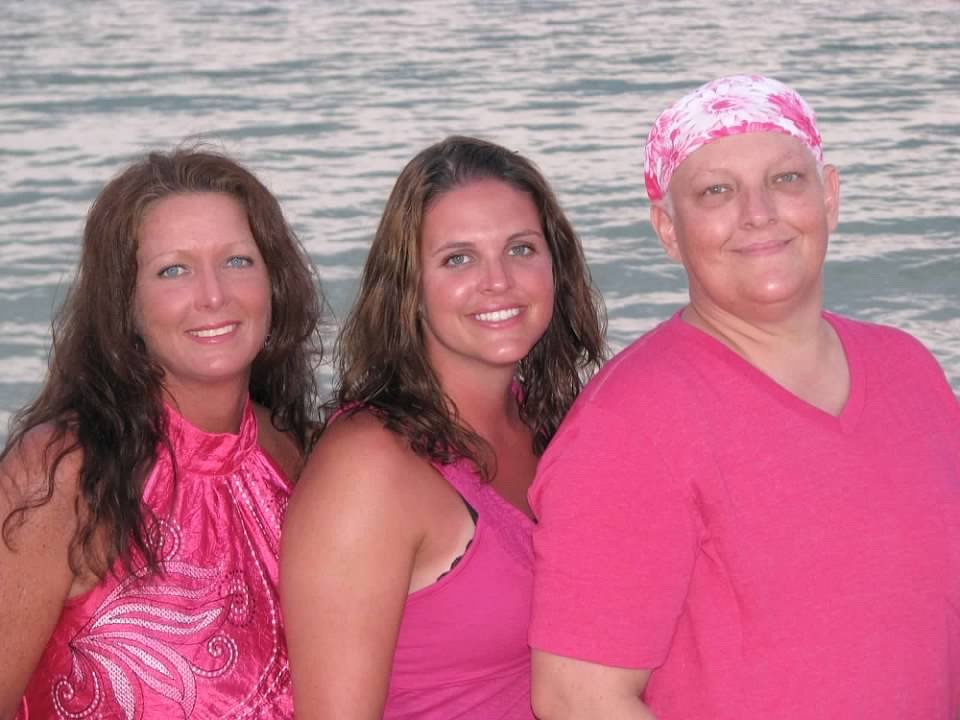 To everyone's surprise, the mass came back positive for breast cancer. "I immediately thought it was a death sentence," said Peggy. "Cancer is a scary word, but I'm a fighter and I knew I wanted to take all measures to increase my chance of survival." 

Those measures would include hiding her emotions, including her fears, from her family and pushing herself to maintain all normalcy in her life. 

She received her treatment in Valdosta at South Georgia Medical Center's Pearlman Cancer Center. This included a double mastectomy followed by reconstruction and chemotherapy.  

Peggy knew and understood she was fighting for her life and was prepared to endure and finish her treatment plan.  

What she was not prepared for was the toll that her physical changes would take on her mental health. "I was devastated when I saw my chest after the mastectomy; I was not prepared for the disfigurement." Peggy struggled buying shirts and with how they looked on her new body.  

Moreover, the changes did not stop there; a common reaction to chemotherapy is hair loss. Peggy says the hardest thing she ever did was go out in public with a bald head.   

Peggy shared that there are no words to express how bad chemotherapy makes you feel However, she feels that the mental component is definitely harder to deal with than the physical component. 

Peggy found strength in her people; her family, friends, church, co-workers, and care team.
"I was overwhelmed by the prayers, calls, cards, visits, and food received. Each of these precious gifts lifted my spirit and made me feel loved. It showed me that I wasn't in this fight alone and that I had extended family who were there for me, supporting me and encouraging me through all of it." 
She used the treatment plan to keep her focused, and to remind her there was a light at the end of the tunnel. Nevertheless, the mental setbacks were very real. "They would come out of nowhere and knock your socks off. Even when the treatment was completed, I still felt anxiety. What if it comes back?" 

Peggy says this worry never really goes away. However, she found a way to adapt to her new "normal." This included white hair that was black prior to cancer.  

Battling breast cancer is a difficult journey, but Peggy encourages others to believe in themselves and know that they will still be the same person after the journey; just a stronger version. She suggests choosing a healthcare team that you trust and believe in.  

"SGMC provided me with comfort and peace. I knew they were striving for the same goal as me, to be cancer free." Her care team included general surgeon Dr. Dallas Miller, plastic surgeon Dr. Shawn Vandemark, oncologist Dr. Eric Anderson, and even her own daughter Ashley, who is an oncology nurse. 

"They were the best; I was extremely blessed to have them on my team." 

Peggy says mammograms and monthly self-breast exams are the most important things you can do for yourself. It is important to catch breast cancer as early as possible, because some cancers grow rapidly. 

Little did Peggy know, ten years later she would rejoin the breast cancer fight, but this time for her daughter.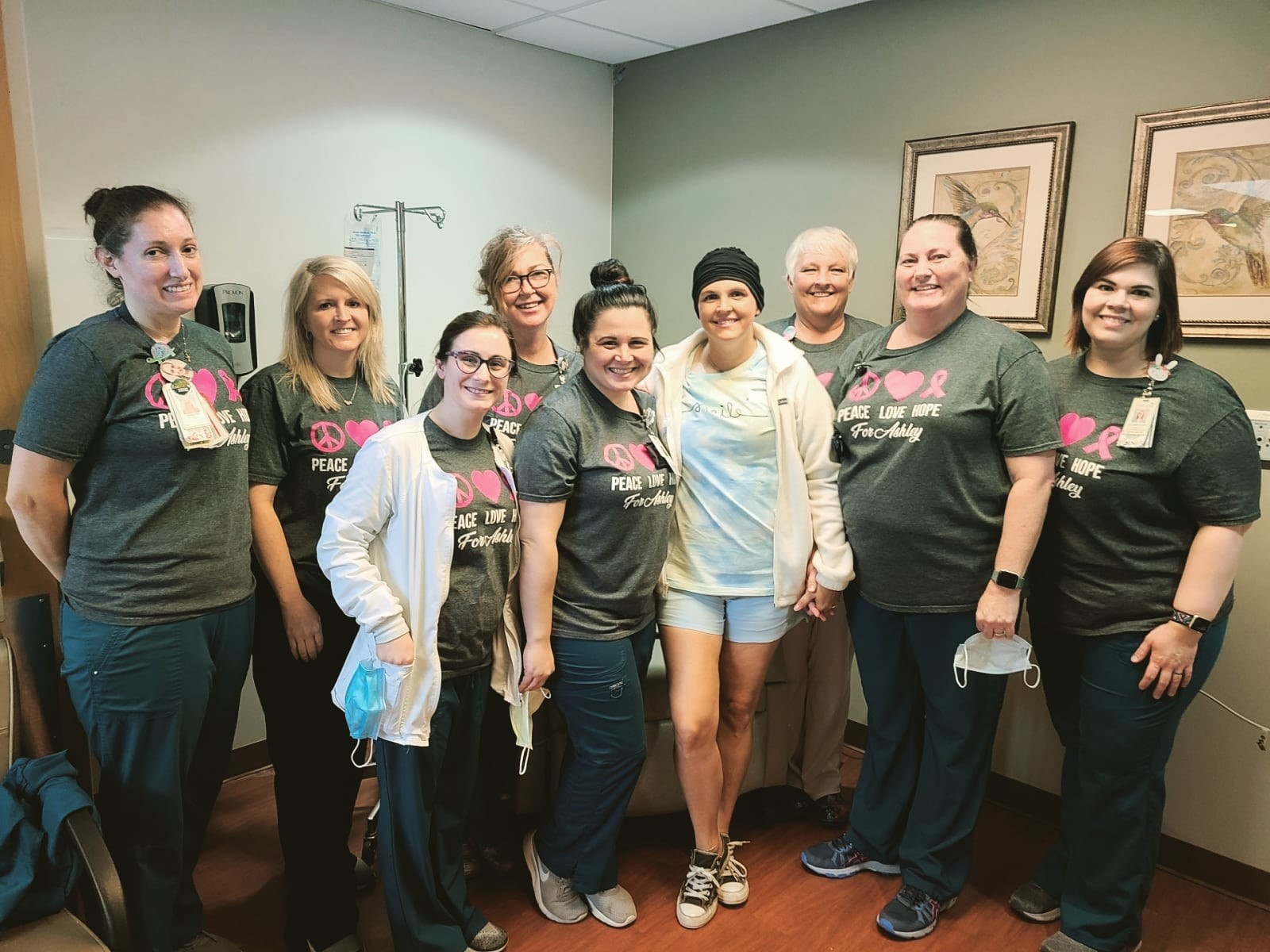 "I knew right when I found the lump it was cancer," shared Ashley Bennett. As an oncology nurse and daughter to a breast cancer survivor, Ashley knew the signs all too well. She decided to get a mammogram, which confirmed what Ashley already suspected. The tests showed BI-RADS, category 5.   

Ashley says she was already at peace with the results and ready to do whatever was necessary to treat it. Ashley received her care at the Pearlman Cancer Center, where she also worked. This included eight cycles of chemo and 6-½ weeks of daily radiation. "All of the staff are caring and amazing at what they do. Dr. Ofori is one of the best oncologists that you can have! He always encouraged me and helped me keep a positive attitude which I am grateful for." 

Ashley credits God as her biggest strength and source of peace. "I know that He helped me find the cancer and that He also helped me fight it," exclaimed Ashley. She says she never imagined being diagnosed with breast cancer at age 35, but hopes to be able to encourage others through her testimony. 
Ashley had many ups and downs throughout her journey, but tried to stay positive and like most cancer patients, she stayed busy. She worked throughout her treatment to keep her mind off the side effects. "I was blessed that I was able to still work and attend all of my children's events, ballgames and practices."  

A strong support system also proved vital for Ashley. Her family, friends, and coworkers provided meals, positive words and many prayers. "I'm still so thankful for everyone in my life that helped me through it and I hope I can help others in the same way." 

Ashley is currently engaged and a mother to sons Levi and Tate.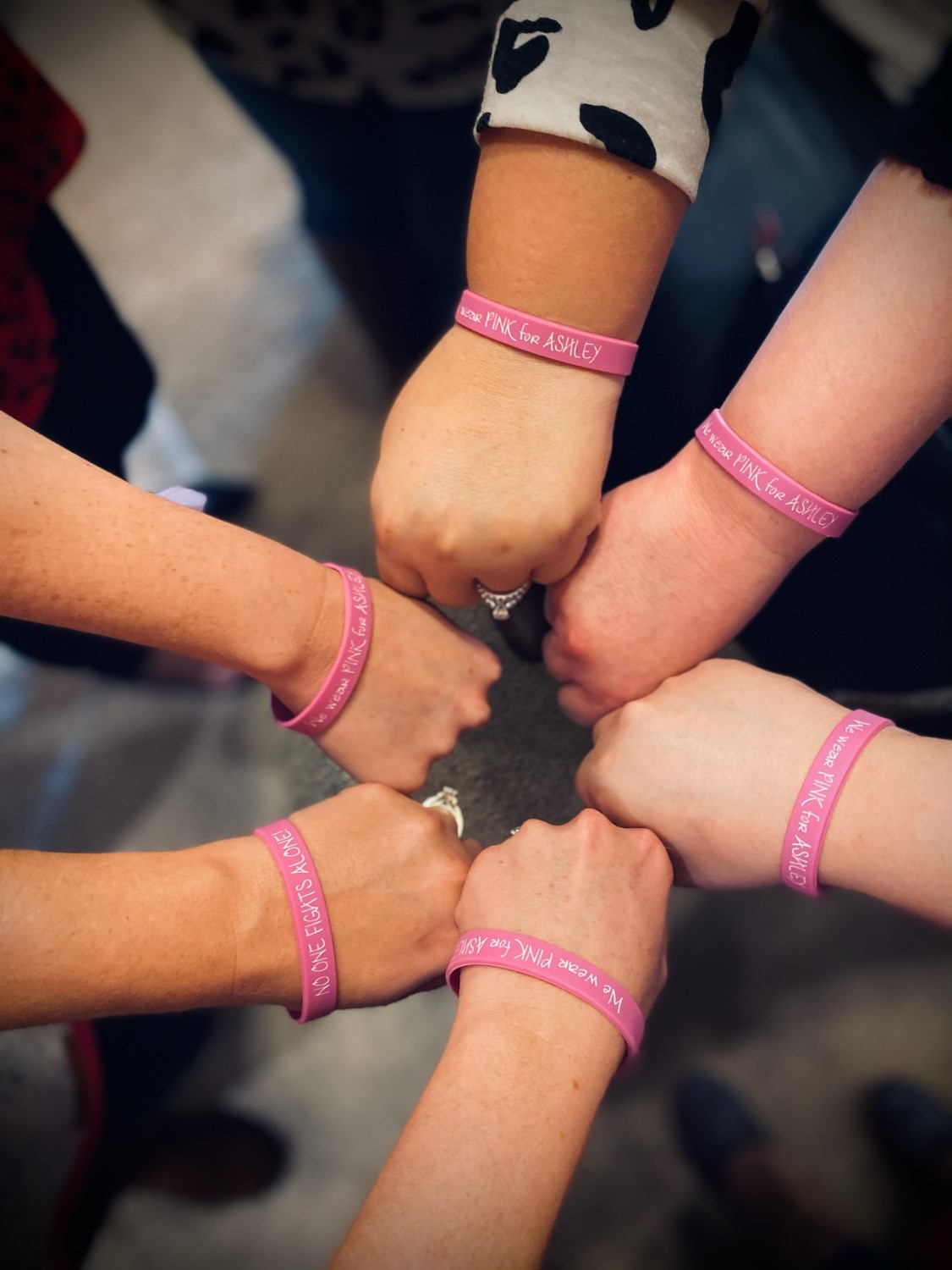 Mother and daughter, Elsie and Samantha Napier, were living a normal life back in the summer of 2019. Samantha, a licensed social worker serving families and children at Valdosta City Schools, and Elsie a Family Nurse Practitioner and part-time volunteer Chaplain, had no idea that their lives would change in the span of a few days that August.  
One day, Samantha noticed a lump in her breast and quickly called her mother to get her medical opinion. Elsie came over to the house a few days later to check it out. After noticing that it was a significant size, Elsie insisted Samantha call the doctor the following day to have an exam.  
After the exam, Samantha decided to have a lumpectomy and was told the mass was likely benign due to her young age. She received her results on a Sunday and had a scheduled follow-up the next day.  
"I was scheduled to see my doctor that Monday, but I chose to read my report the night before. As I read the report, not exactly understanding it all, I identified the word 'cancer'."
Samantha immediately called her mom and sent the report to her. "My mom tried to be calm for me and encouraged me to wait until we spoke to the doctor the next day in hopes that there was an error in the report." 
After hanging up the phone, her mother cried out to God with agony as she knew her child's life was about to change forever.  
The pair went to the scheduled appointment and it was confirmed; Samantha, at age 32, had stage 3 Invasive Ductal In Situ Triple Negative Breast Cancer.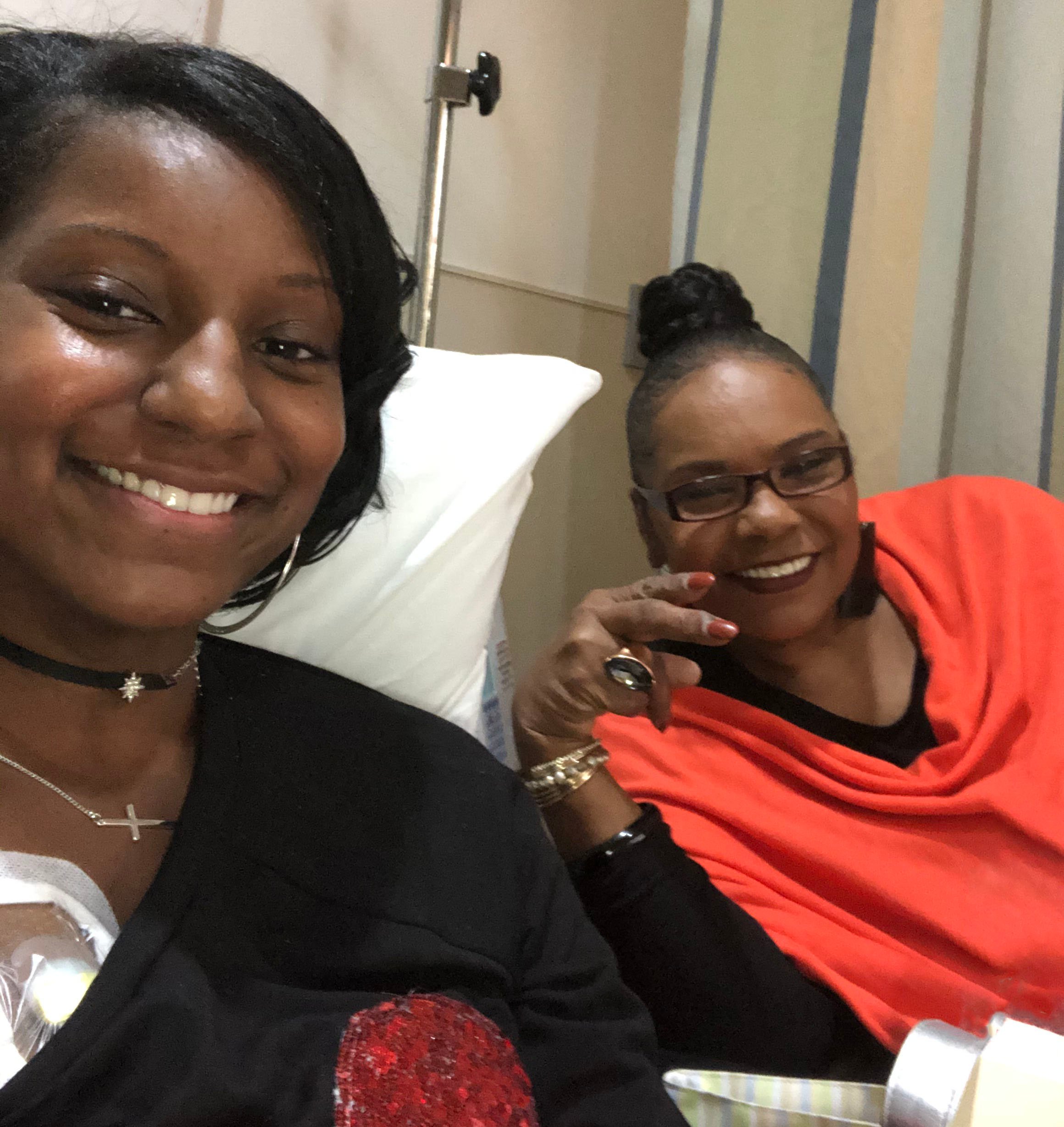 Upon receiving the confirmation, Samantha was shocked. Her family had no known first-degree relatives diagnosed with breast cancer. She remembers holding back her tears, as she did not want her mom to be in distress. "Somehow, we would weather this storm," said Samantha.  
Samantha wasn't worried about her life but for her family. "I was more concerned about my family, my brother, my dad. I did not want them to worry. But I must admit, within my heart I asked God, 'Lord please do not let me die.'" 
Samantha saw her life flash before her eyes. She wondered what would happen to all of the future dreams she had for a husband and the children they would have.  
Samantha saw the Oncologist the next day and her breast cancer journey began.  
 Even though Samantha was the person diagnosed, Elsie felt every bit of pain for her child.  
"As a mother at the time of my child's diagnosis, there were times I literally could not breathe. I was overwhelmed by fear of the unknown. She was a beautiful young woman, so gifted and loving towards others, I wanted her to live and be all she had dreamed," explained Elsie.  
Due to Samantha's age, her journey moved quickly. Her treatment consisted of four surgeries including reconstruction, 8 rounds of chemotherapy and 33 rounds of radiation. 
Samantha received her chemotherapy and radiation at South Georgia Medical Center's Pearlman Cancer Center.  
"The treatment I received was truly a blessing because I had worked alongside some of the staff during my earlier employment there. Some staff were even former classmates," she said. 
"They were all truly angels; at every encounter, from greeting my mother and me at the door, assisting with labs and appointments, accommodating my work schedule for follow-up appointments as well as providing encouraging words during my care," said Samantha.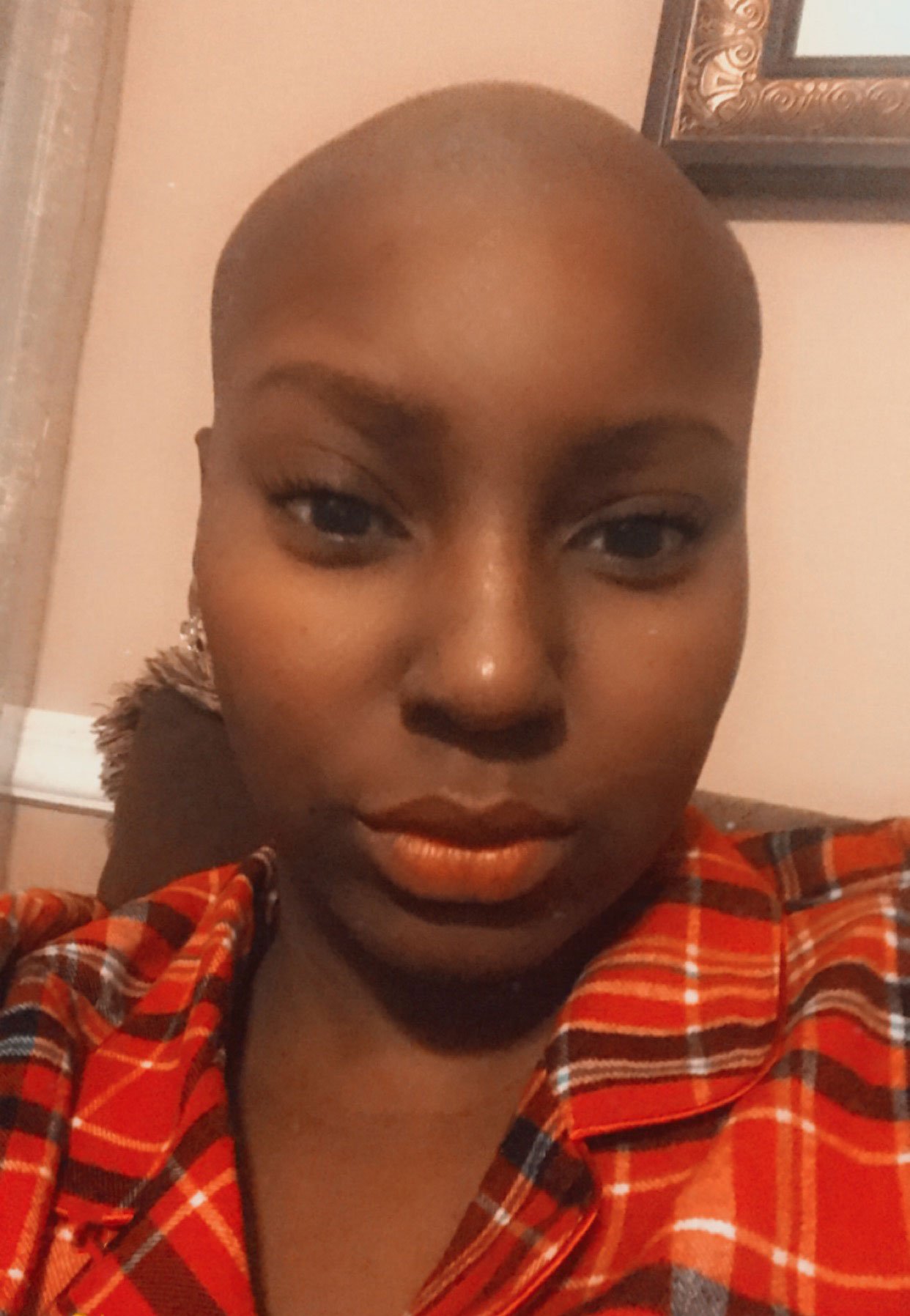 Samantha explained that chemotherapy was the most challenging treatment for her, as she lost her hair, her body changed, she felt fatigued and the hours of treatment at times seemed unbearable. Being able to work helped Samantha try to maintain the life she was used to pre-diagnosis.  
Throughout her journey, Samantha shared that her faith in God and her family kept her strong.  
"My mom had always taught my brother and me to just ask and believe, God will answer, and He did. My mother never missed a beat in attending appointments, my dad supported in running errands; they took care of me at their home after surgeries for weeks and even months as needed. They spent nights with me at my home after chemo treatments helping me to have normalcy in my own space. They just tried their best to make sure I was all right." 
"They are truly my anchor. My brother's courageous spirit and love kept me focused; even though he is much younger than I, he has always been protective of me." 
She also attributes her strength to other cancer survivors. "They shared their journeys with me, answered my questions and calmed my fears by their testimonies. They were priceless." 
Two years later Samantha has completed all radiation appointments and has only one more surgery and a reconstruction remaining. 
"I still have moments where I get anxious when I return to the Cancer Center for appointments or am awaiting lab results. I have moments where I am overly conscious about self-inspection of my breast and chest areas. During these times, I reassure myself that God is with me, and He is for me; so, I refocus! I have learned so much about myself during this journey." 
Unfortunately, the journey was far from over. On August 21, 2021, almost two years to the date of Samantha's diagnosis, her mother Elsie received the same devastating news, that she too had breast cancer. 
"When I first found out my mother was diagnosed with breast cancer, I felt like I was being diagnosed all over again. I was like 'Lord we are almost done with my process; two years later God?' My mother is my world, and I could not imagine her experiencing what I did."  
Elsie had been with Samantha at every appointment, treatment, and every step of the way through her cancer battle, and now the roles had reversed.  
"I try to keep my feelings and thoughts to myself and focus on giving my mother the support and love she needs. I am reminded 'His grace is sufficient' because He did it before and He will truly do it again. I know my mother is a prayer warrior with strong faith," shared Samantha.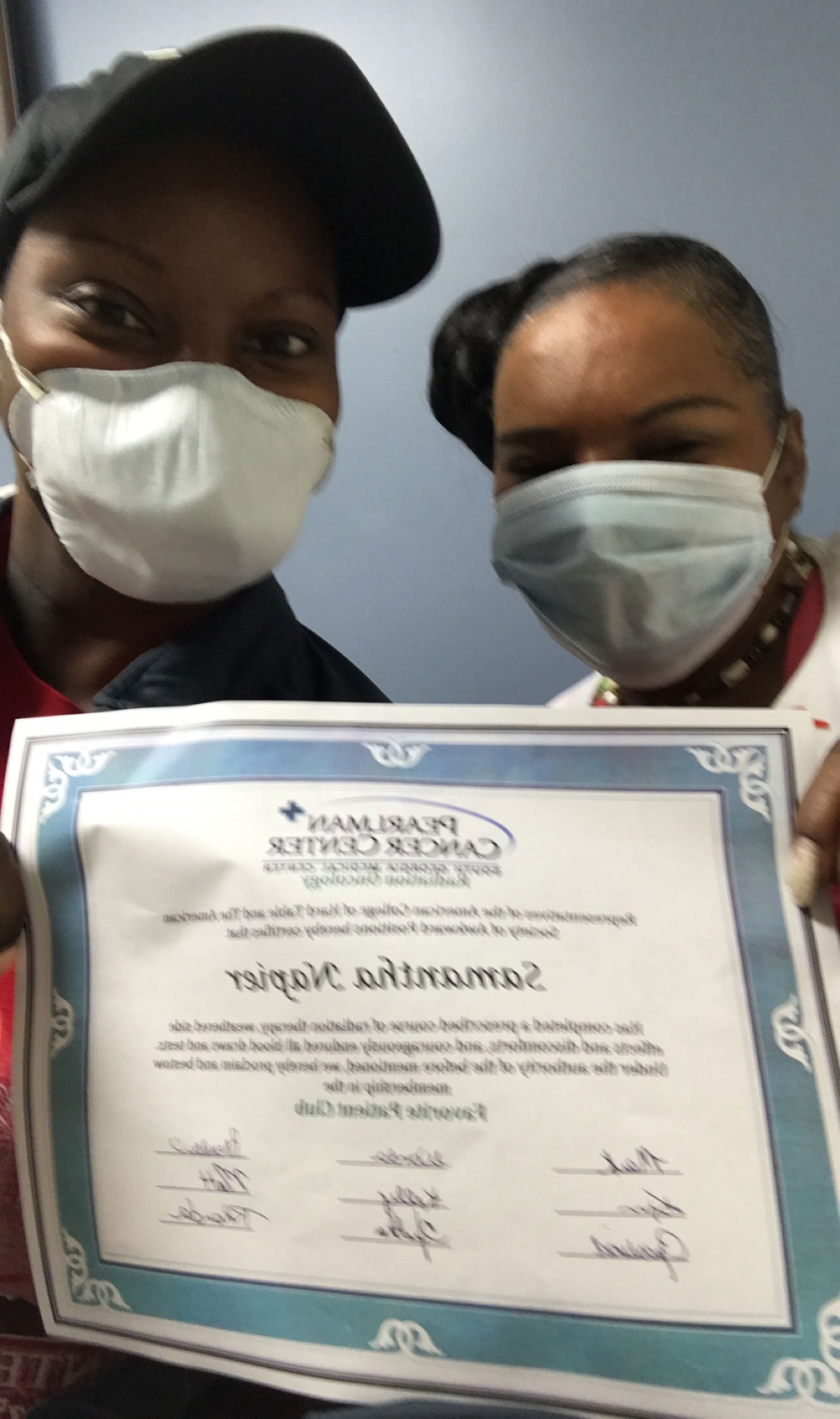 "Even though I know God is in control of what is now transpiring in my life, I must say at the immediate time of my initial diagnosis, I needed a moment to wrap my head around it all. It had just been two years almost to the date that we received the news of my then 32-year-old beautiful daughter's diagnosis. It felt like dé·jà vu or a bad joke," said Elsie.  
Even through the diagnosis, Elsie still maintained immense faith and is grateful for going to her annual mammography appointment where the mass was able to be detected.  
"Today I thank the Holy Spirit for urging me to have the 3D Mammogram. I had opted in 2020 to do a regular mammogram. My doctor told me, if I had chosen to do the regular mammogram that my mass may not have been detected as early. Early detection is key to a more positive outcome and I am so thankful," said Elsie.  
Having to go through her own cancer journey, Elsie is constantly reminded of her daughter's battle. "All I can see and feel is what my daughter must have felt. These thoughts and feelings make me cry because of the loneliness she must have sometimes felt; but I rejoiced in the strength she exemplified."  
Elsie can now truly understand what her daughter went through. "I never saw my daughter breakdown, cry, or even become angry. I know she was being strong for me and now I feel I must be strong for her." 
Samantha shared that through a support system of family, church, friends, and her father who is her silent hero, they will both be able to walk through this journey again.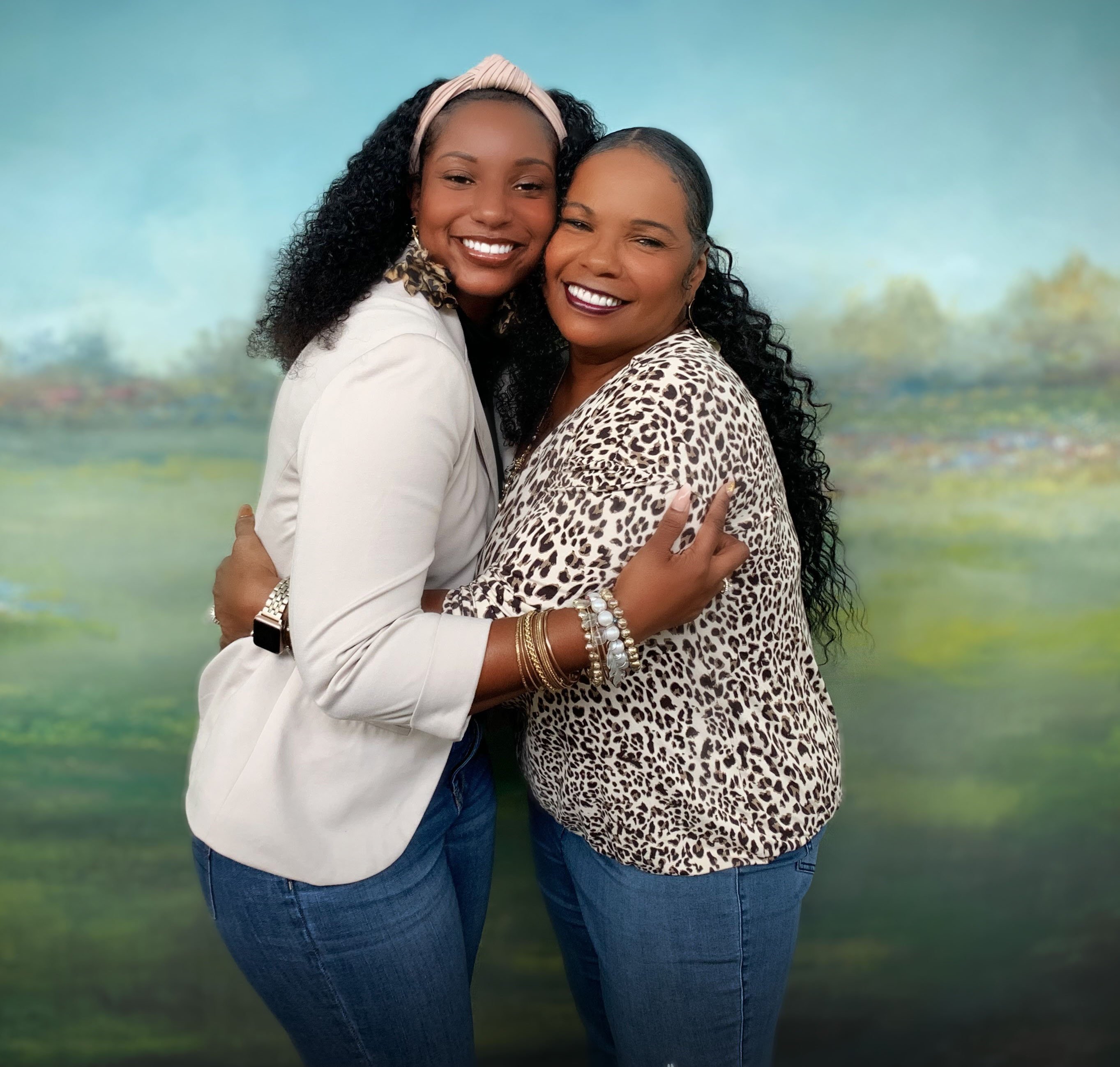 For those recently diagnosed with breast cancer Samantha wants them to know that they are not alone.  
"Yes, there will be days you are overwhelmed with the thoughts of it all, challenged not to lose hope, tired, and fearful, but you cannot stay in that place, just look up and out for strength. God truly has more in store for you.  Remember your journey is your journey. Share what you want to share when you are ready! Lastly don't be afraid to ask for help, people who love you and others that just know you from your story want to be a blessing to you if you will only allow them." 
Samantha plans to be with her mother through her journey just as her mother was there for her.  
Elsie explained, "The caring hands, smiles, and care by SGMC's Cancer Center staff, in my experience, is a light God sends to remind us He knows, He sees, and He cares. Your light has enabled my daughter and me to fight Cancer and win! This is our proclamation!"
Lori Rojas, a 43-year-old radiology technologist born in Brookings, South Dakota and her husband of over ten years, Wayne, were living peacefully with their blended family of seven. They spent much of their time camping, hiking, kayaking and going to the beach. Their life was perfect.  
However, due to the density of her breasts, Lori had yearly mammograms performed beginning at a very young age. Her last few mammograms showed that her breasts had become very cystic, which required additional imaging.  
In March 2021, Lori's mammogram came back as abnormal, which wasn't surprising to her as this often happened. This time, however, she didn't receive the news she had hoped for.  
Lori was referred to Dr. Jared Sanders, a surgeon at South Georgia Medical Center, for a biopsy that confirmed she had Invasive or Infiltrating Ductal Carcinoma ER/PR+ HER2- Stage 1 breast cancer. 
To Lori's relief it was caught early. Many people began asking Lori how she felt when she got the news.  
"I have to say, nothing can prepare you for the 'C' word being spoken out of your doctor's mouth.  Holding tight to my husband's hand, I went cold.  It was like I was in a dream.  As the doctor was talking, I kept thinking this is not real, not me, I'm only 43."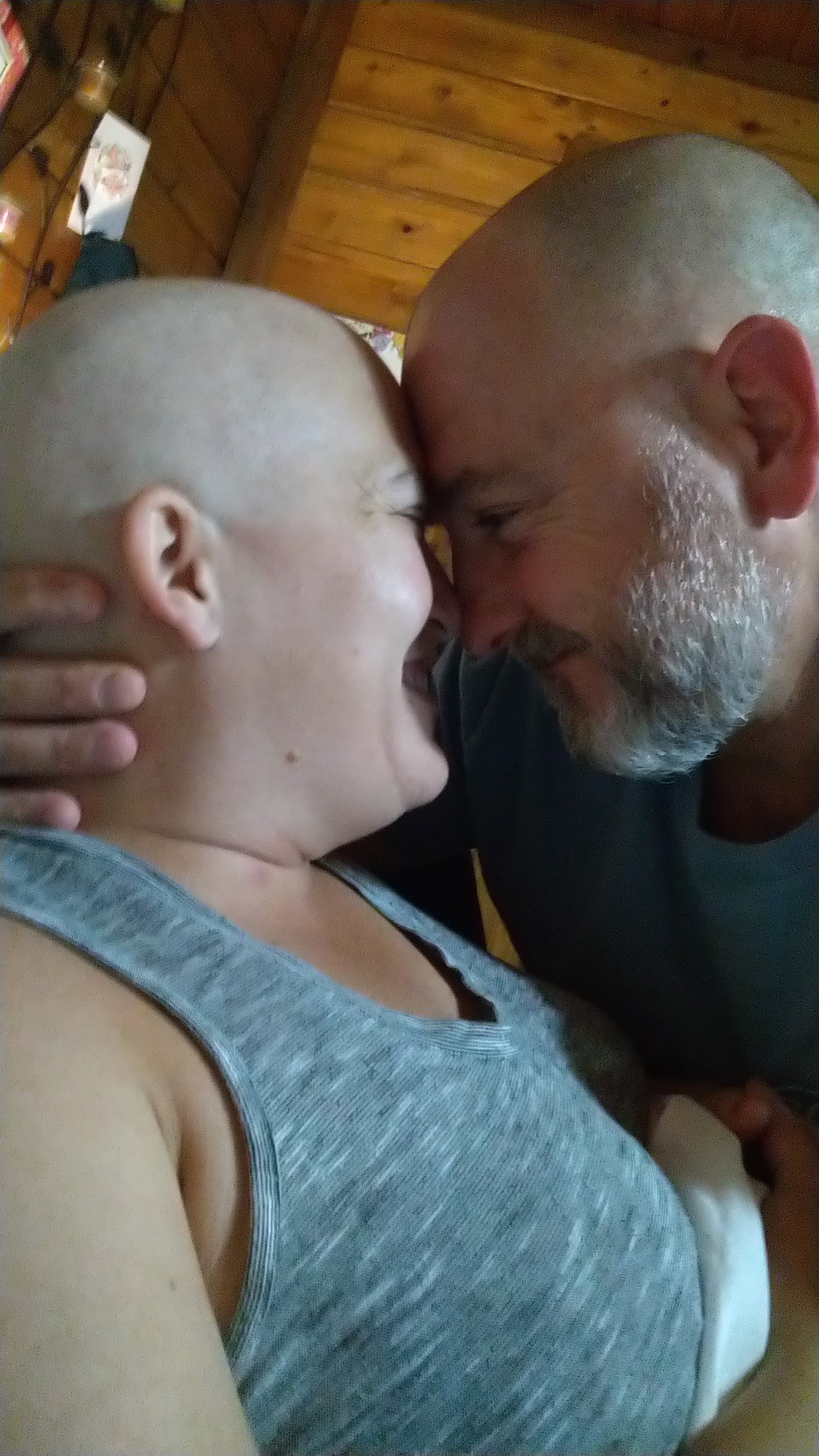 After several minutes, reality hit and Dr. Sanders began to explain treatment options to Lori and Wayne.  
"To tell you the truth, I almost did not have my screening mammogram this year.  Since I work in healthcare, and dealing with the COVID-19 pandemic for the last year, I just did not want to be anywhere near the hospital on my day off. With the persistent encouragement from my husband, I finally agreed and scheduled my mammogram. So here I am, given two options: conservatively a lumpectomy with radiation or more radically, a mastectomy with chemotherapy. " 
Lori had a lot to think about and she determined that she wanted whatever treatment option would give her the lowest chance for the cancer to come back. She wanted the best chance for a long life, and after much thought and prayer, she decided to go with a double mastectomy.  
"The choice was not easy. Wrestling with losing a part of my body that I have known for so long was very depressing."
"But Dr. Shawn Vandemark, a plastic surgeon at SGMC, provided encouragement and because this plan would provide the lowest chance of reoccurrence, I had peace with my decision." 
On April 28, Lori awoke in her recovery room flat chested for the first time since she was a little girl.  
"I knew it was coming but the first time I looked down to see a part of my body missing was a shock. The three hardest moments for me definitely were when I received the diagnosis of cancer, waking up breastless and the loss of my hair. But I knew I had to do this to get this killer out of my body." 
Faith, family and friends were what Lori leaned on to give her the strength to fight the battle. Her husband was her rock. Wayne held her hand every step of the way and continues to do so.  
After recovery, Lori began treatment at SGMC's Pearlman Cancer Center under the care of Dr. Savita Bidyasar, hematology and oncology physician. 
"She is kind, informative and to the point. She laid out a treatment plan over three months that would include 4 rounds of chemotherapy. Later, to be followed up by 5-6 years of hormone suppressant. Currently I have 3 down with 1 more to go!" 
Lori shared that the process is definitely not easy, but she finds little things that keep her going. Her weekly appointments with Dr. Vandemark get her excited as she is able to see her tissue expand and her chest size increase little by little each day.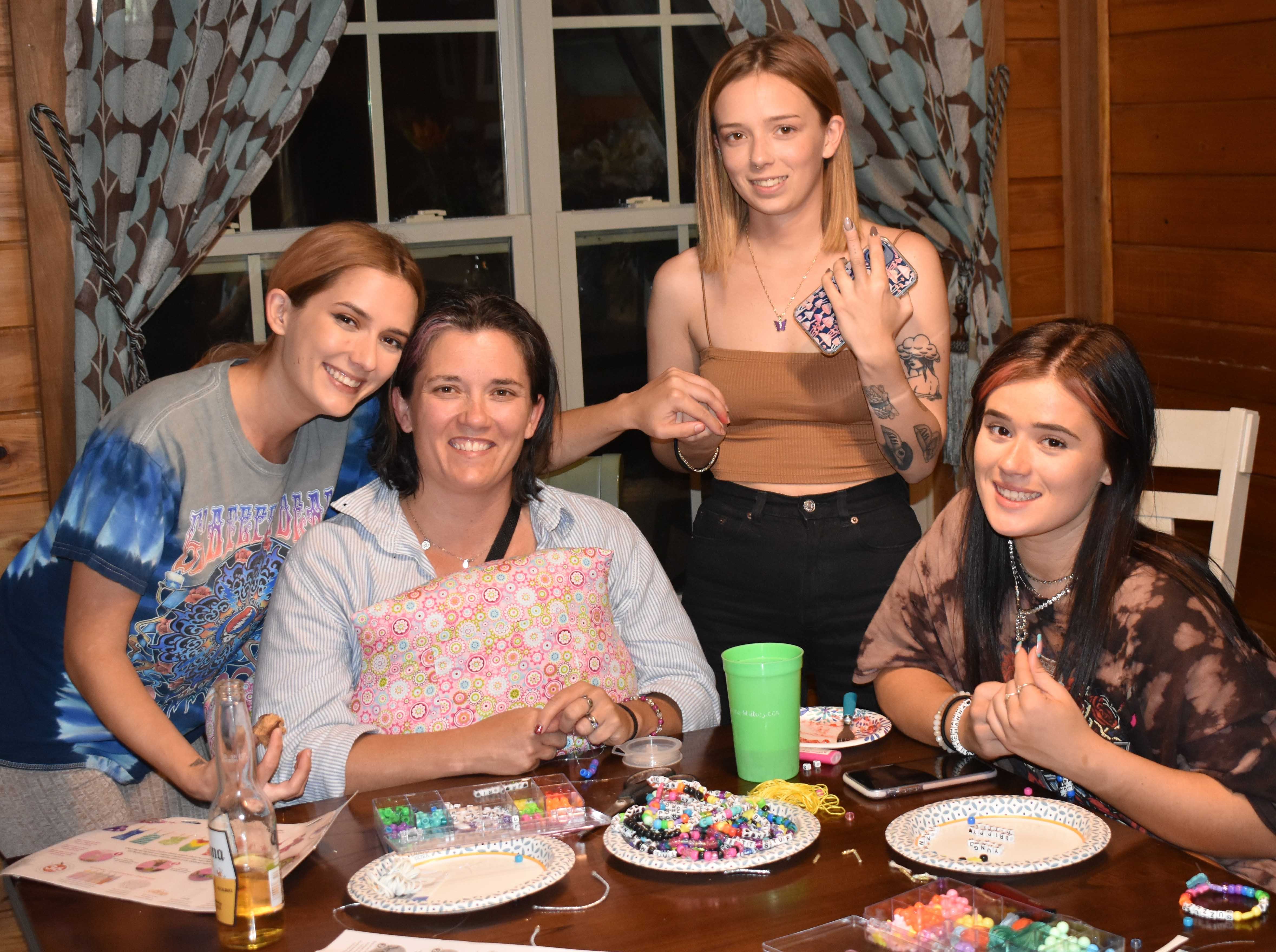 Chemo treatment for Lori can be tiresome but she reads books for comfort. Having her hair fall out was one of the hardest days of her journey, yet she finds light in that too.  
"My hair fell out after my second treatment, but I have found enjoyment with many different wigs and styles. I think my husband likes them too."                   
Lori wants everyone to know that early detection is key to a better outcome when it comes to cancer. She urges women to get their yearly mammograms and rely on their faith.  
"Since my diagnosis, I have tried to follow the motto of 'Faith over Fear.' I have also learned through this whole journey that you have to be patient; you are not in control.  Doctor appointments, tests, procedures, and then waiting for those results will test your patience. During my hospital stay after my first chemo treatment, I had a really hard time staying positive and I leaned toward a particular verse; Jeremiah 29:11- 'For I know the plans I have for you declares the Lord, plans for peace and not for evil, to give you hope and a future.'" 
"If my story encourages or changes a woman's mind to continue with their monthly self-examinations and get their yearly mammogram, then all of this has been worth it. Early detection is key."