Strength. Support. Survival.
Real women share their journey with breast cancer to raise awareness and inspire us all.
When Elaine Lewis went in for her routine mammogram in November 2022, she had no idea of what the next year had in store for her. That mammogram showed an area of concern, and she was asked to return for another mammogram and ultrasound.
A few days later, there was another phone call from the doctor. "There's a spot the size of a BB, and we need to do a biopsy."
Harvey Miller, MD, Chief Clinical Quality Director of the Breast Center at SGMC, told Elaine that he wanted to check that spot just to be sure. She was surprised, as she had not felt a lump or had any breast pain.
At her next appointment, Dr. Miller told her the dreaded words: breast cancer.
By this point, it was mid-December, and the holidays were right around the corner. Once she had the news, Elaine knew it was time to fight. She asked Dr. Miller, "What are we going to do?" Dr. Miller presented her with two options: wait, or go ahead and take care of it.
Elaine chose to tackle her breast cancer head on, just a few days before Christmas.
After telling her family and having conversations with her grandchildren, she began reaching out to friends and others in the community who had battled breast cancer. "I listened to those with positive testimony that encouraged me to overcome this battle," she said. She also had many people praying for her.
Howard Bowers, MD, SGMC General Surgeon, performed the surgery to remove the cancerous spot from Elaine's breast.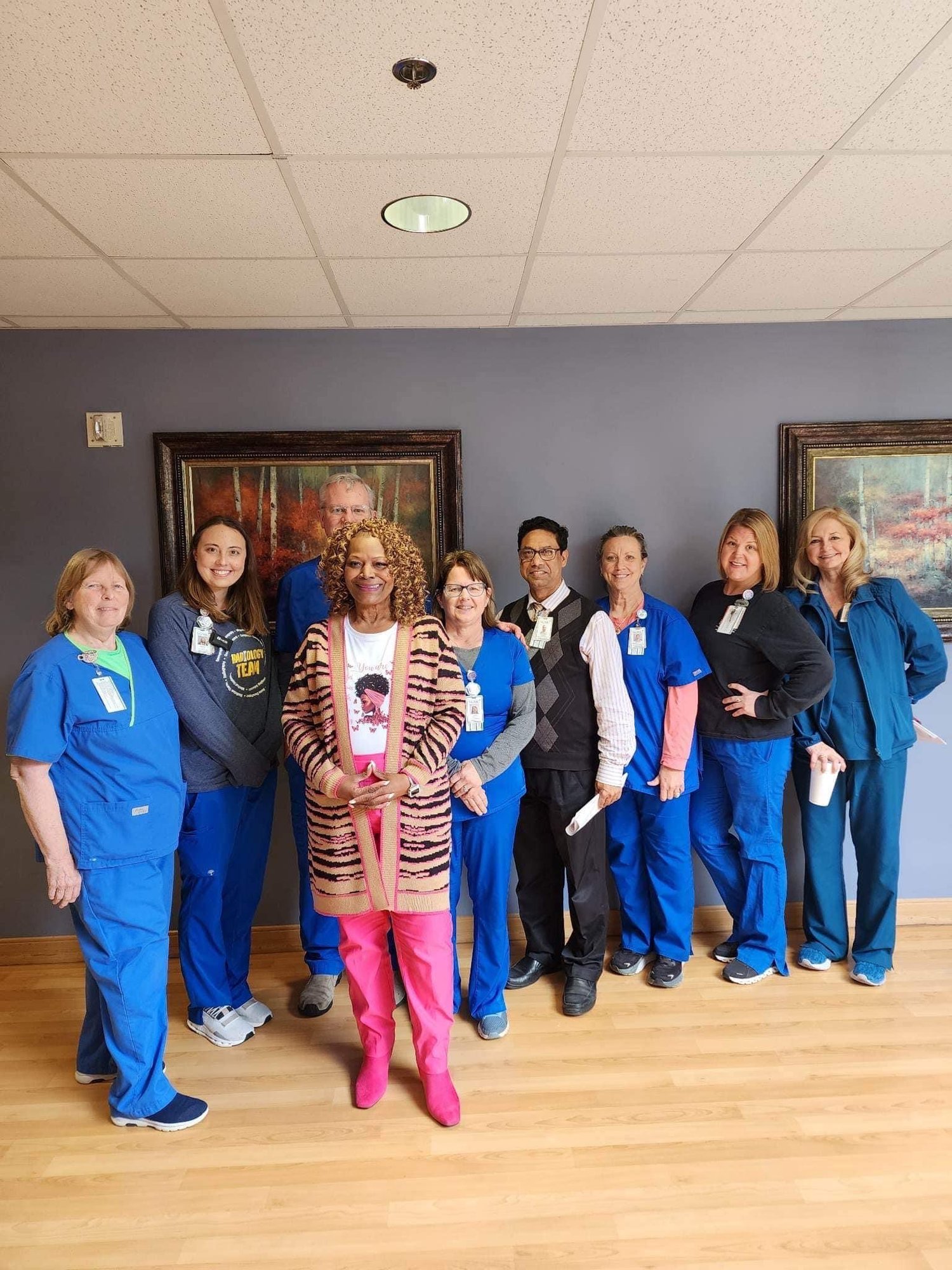 In January 2023, Elaine visited SGMC's Pearlman Cancer Center to begin radiation therapy. She underwent 20 rounds of therapy: 5 days a week for a month.
"I had heard so many stories of how sick radiation made others, but I was one of the lucky ones," she shared. "I had no problems and didn't feel sick at all. Toward the end of treatment, I did have a little bit of burn, but that was my main side effect."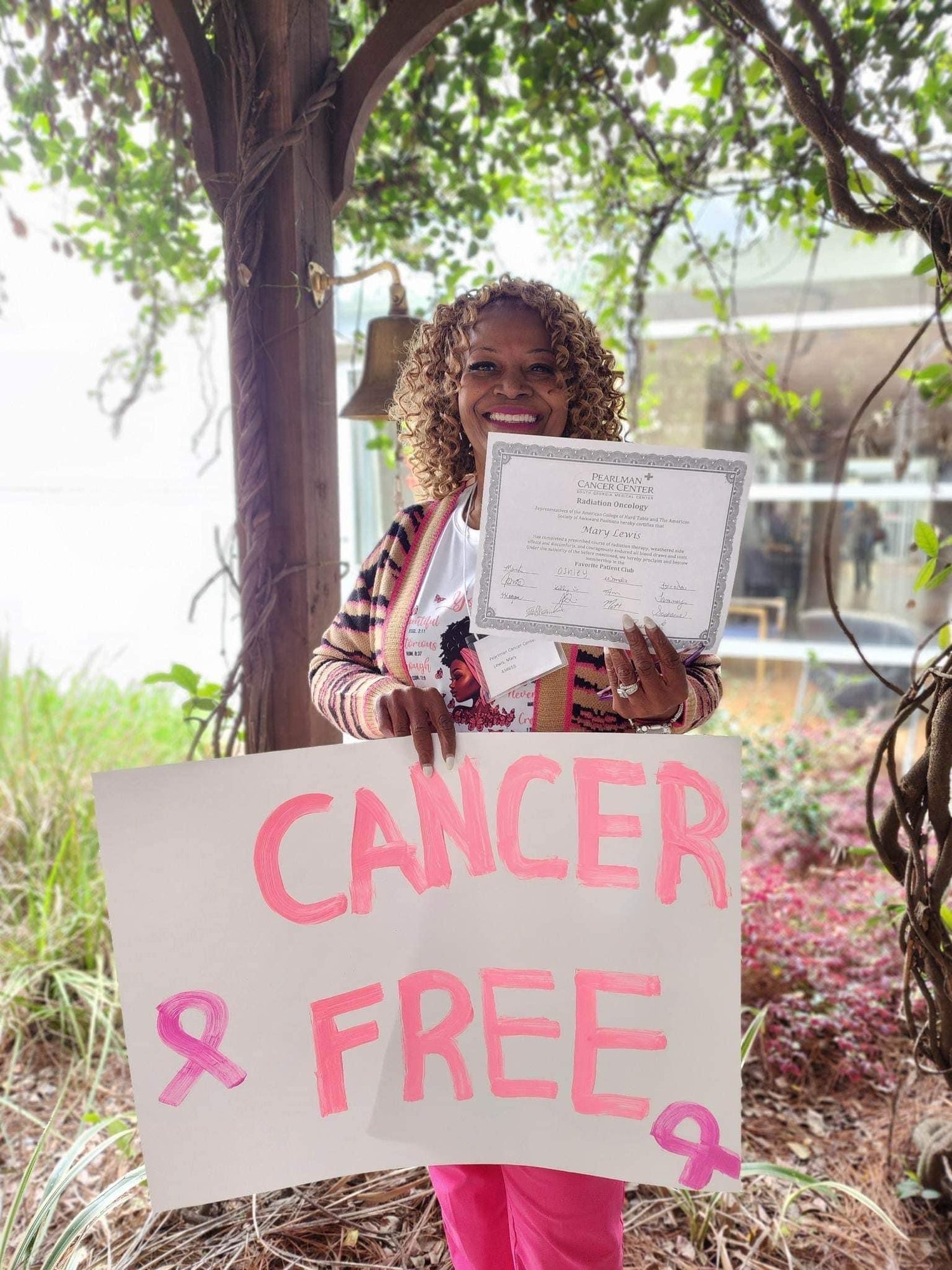 During her many visits to the cancer center, she became close with the "dynamite" staff and care team. "I love each and every one of them," she says. "They made my experience very comfortable and always gave me positive affirmation."
Alongside the encouragement of the staff, Elaine says that family, faith, and prayer helped her to make it through. Now, she encourages all women to get their annual mammogram if they are eligible.
"We can endure that little bit of discomfort during a mammogram for the peace of mind it offers," she says.
If a woman does end up in a similar position as her facing a cancer diagnosis, she offers some words of wisdom:
"If you do hear that big C word, don't let that word overtake you or put fear in you. I'm a person that believes that God is bigger than cancer."
Stacey Lutz is no stranger to cancer. She was first diagnosed with breast cancer in October 2017 after a regular visit to her OBGYN, Roy Swindle, MD, when through a routine mammogram it was discovered that she had two lumps.
She underwent surgery locally with David Parker, MD, to remove the lumps and thankfully caught them early enough that she did not have to undergo chemotherapy.
"As far as cancer experiences go, I had a good one," she says. "There was nothing remarkable about it." After radiation treatments at the Pearlman Cancer Center, all seemed normal, and she returned to her regular work and routines.
A few years later, in August 2022, Stacey noticed what seemed to be some bruising on her breast in the same area as her surgery. It was located on the underside and was not very visible.
"I was not too worried about it, but I made sure to bring it up with Dr. Swindle at my annual OBGYN appointment."
Stacey showed Dr. Swindle the bruises, and they agreed to continue to monitor the area.
She went in for a follow-up appointment with her oncologist at the Pearlman Cancer Center, Samuel Ofori, MD. He then sent her for another mammogram, which did not show anything unusual.
By December, Stacey was back at Pearlman for lab work. At this point, the spot was turning different colors with lesion-type areas. She again showed the bruising to her care team, this time a nurse in the lab, and she insisted that Stacey see Dr. Ofori again that same day.
Dr. Ofori referred her to General Surgeon Jared Sanders, MD, for a biopsy. This time, it came back as angiosarcoma, a rare cancer that forms in the lining of blood vessels and lymph vessels.
Dr. Ofori and the team at Pearlman consulted with other specialists and referred Stacey to the Mayo Clinic's specialized sarcoma team. However, Dr. Ofori remained her primary oncologist through chemotherapy. Her care plan was coordinated through SGMC so that she could keep working in the Valdosta area while undergoing treatment.
Stacey says she sincerely appreciates her care team's willingness to coordinate her care at another facility. She says she was impressed that the team at SGMC understands what their strengths and capabilities are and chose to do what was best for her by referring her to a specialist for care.
"I could not have had mentally such a positive attitude and continued to work without the trust and coordination of the three teams at SGMC, Mayo Clinic, and UF Health," she shares.
Following the chemotherapy, Stacey underwent radiation treatment through the University of Florida's Proton Therapy Center in Jacksonville. Next came her first mastectomy surgery at Mayo Clinic, and she still has a second mastectomy surgery to follow.
Though her journey is still ongoing, Stacey says she encourages all women who are eligible to get their annual mammogram. She serves as the perfect example of doing self-checks, staying in tune with your body, and advocating for yourself and your health when something seems off.
"Cancer is always a scary thing to explore," she says. "But having a positive attitude allows you to move forward to see the other side of it."
Cherise McKinnon is an Air Force Veteran whose first duty station was at Moody Air Force Base in 1993. Because she is a veteran, she often travels to the closest Veterans Affairs (VA) hospital to receive care, which is in Gainesville, Florida.
In 2015, a routine mammogram showed breast calcifications, or calcium deposits that develop in breast tissue. While they are usually benign, they can be a sign that someone is at risk for developing breast cancer. Because of this, Cherise was told to have mammograms every 6 months, rather than annually.
At her February 2022 mammogram screening, another cluster of calcifications showed up in a new spot. She was scheduled for a biopsy on March 2nd. On March 4, she was told that she had invasive ductal carcinoma, the most common type of breast cancer.
After receiving her diagnosis, the VA gave her clearance to receive her cancer treatment in Valdosta at SGMC's Pearlman Cancer Center rather than traveling back and forth to Gainesville, a two-hour trip each way.
"In the beginning, it was like it wasn't real," she shares. "My world shut down. I was still moving, but I just couldn't believe it I was diagnosed with cancer."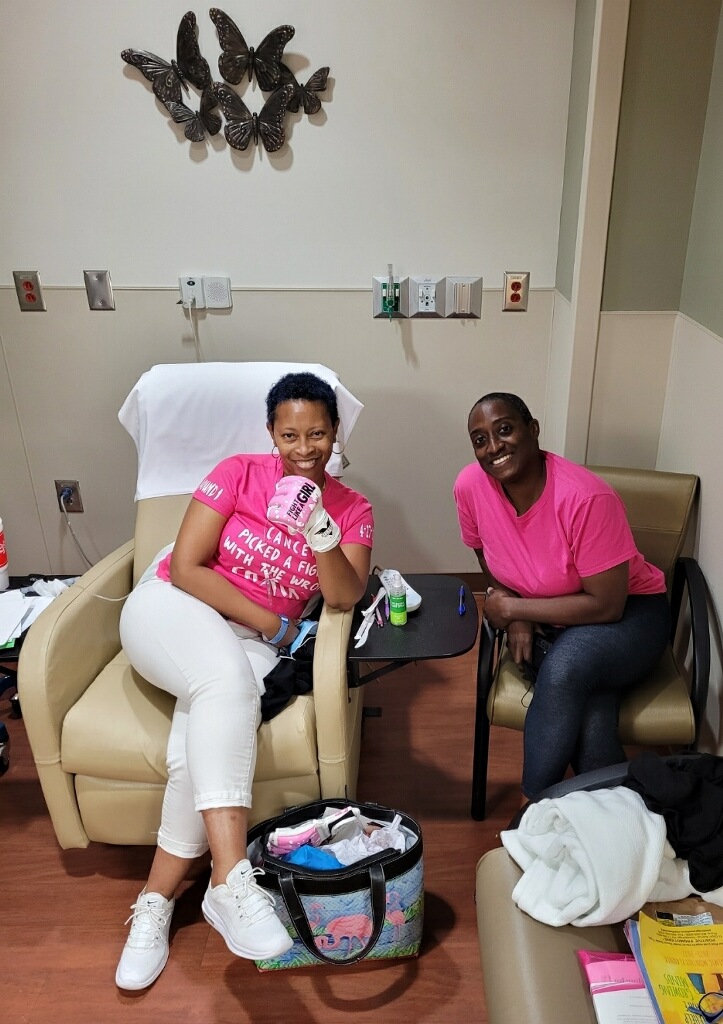 Cherise met with Hematologist and Oncologist Swapna Narayana, MD, to get her treatment started. In April 2022, Cherise began chemotherapy at SGMC. She went through 6 rounds of treatment, with appointments every 3 weeks. She also received immunotherapy weekly between her chemotherapy treatments.
In the midst of that treatment, she did genetic testing to determine if her cancer was hereditary. Thankfully, it came back negative for gene mutations.
In October 2022, Cherise underwent a bilateral mastectomy with Dr. Bridgett Moore, cosmetic surgeon. Unfortunately, she had a complication after surgery when a nurse noticed a hematoma on her left side. She was rushed back into surgery and had to get 2 bags of blood.
"I almost died," she shares. "Thank goodness for that nurse! She saved my life!"
Following surgery, she was out of work for about a month and a half for recovery. Then, the expansion process began for breast reconstruction.
Throughout her journey, her family has been very supportive. Cherise does have a sister-friend, Sheryl Pressley, who was there every step of the way to see her through all of the highs and lows of her cancer battle. Also, she praises her coworkers, or her "Sallas Mahone family", for looking out for her." They really carried me through," she says. She also compliments her Pearlman care team for the extraordinary care they provided.
Despite the tough battle, Cherise remained steadfast and positive about her outcome.
"I had so much faith that I was going to get through this."
She says now she pushes women who are eligible to not put off their breast cancer screenings. "I tell my story and encourage ladies to get their mammogram," she says. "Had I not been scheduled for my mammogram, I wouldn't have known about my cancer diagnosis. The earlier you find out, the better your chances are of getting the right treatment. I don't know how long it would've gone unnoticed."
Breast Cancer Awareness Events
Registration is required for some events. See below:
Paint Valdosta Pink 5K




Saturday, October 7,

7:30am-9am
Join the Valdosta Junior Service League and SGMC as we "Paint Valdosta Pink" in a 5K run/walk. Proceeds will benefit breast cancer patients of the Pearlman Cancer Center. Register here.
VSU Pink Out Game: SGMC Family Day




Saturday, October 7,

2-5pm
Pink and black all hail! SGMC employees are invited to pink out Bazemore-Hyder Stadium for breast cancer awareness. Free tickets will be available for employees and their families. A maximum of four tickets per employee while supplies last.
Breast Cancer Survivors' Paint Party




Tuesday, October 10,

5:30-7:30pm
Calling all breast cancer survivors! You're invited to paint a pink pumpkin door hanger & enjoy heavy hors d'oeuvres as you gather with other survivors or those currently undergoing treatment. Space is limited, and registration is required! Register here.
Percentage Night at Recoil Trampoline Park




Saturday, October 10,

5:30-7:30pm
Grab your kiddos for a night of fun at Recoil! A portion of all proceeds will be donated to SGMC to aid in the fight against breast cancer and contribute to research, support, and awareness efforts.
Girls Just Wanna Have Brunch




Saturday, October 14,

10am-12pm
Women are invited to gather their friends and join SGMC to promote women's health advocacy. Attendees will be treated to mimosas, a waffle bar, a build-your-own bouquet station, giveaways, and a photo station. Register here.
Mammos & Mocktails




Saturday, October 21,

9

am-11am
Make your health a priority. Schedule your annual mammogram online with a convenient Saturday appointment. Register here.
Pink Fridays


Every Friday in October
SGMC employees are encouraged to wear a pink or Breast Cancer Awareness SGMC t-shirt every Friday in October! T-shirts, sweatshirts, and pink polos will be available online for purchase.
Breast Cancer Awareness Apparel
Think Pink yard signs, special accessories, and all things pink are available for purchase below and in the Golden Galleria Gift Shop to honor a loved one all month long.
All items are available for preorder and must be picked up in the gift shop on main campus. Proceeds benefit the SGMC Foundation's Cancer Fund.
SGMC employees, don't forget that you can wear a pink or Breast Cancer Awareness SGMC t-shirt every Friday in October!
Important Things to Know About Mammograms
They can save your life.
Finding breast cancer early reduces your risk of dying from the disease by 25-30% or more. Women should begin having mammograms yearly at age 40, or earlier if they're at high risk.
Don't be afraid.
Mammography is a fast procedure (about 20 minutes), and discomfort is minimal for most women. The procedure is safe: there's only a very tiny amount of radiation exposure from a mammogram.
Get the best quality you can.
Our state-of-the art 3D mammography system provides peace of mind and reduces callbacks by up to 40% compared to 2D mammography alone. It also detects 20-65% more invasive breast cancer compared to 2D mammography, which for some women, this could mean an earlier diagnosis and a greater variety of treatment options.

American Cancer Society Resources


Mammograms are low-dose x-rays that can help find breast cancer. The American Cancer Society provides topics that can help you know what to expect.

Resources from the CDC


Learn more about mammograms, symptoms, and how to lower your risk of breast cancer.