Important Things to Know About Mammograms
They can save your life.
Finding breast cancer early reduces your risk of dying from the disease by 25-30% or more. Women should begin having mammograms yearly at age 40, or earlier if they're at high risk.
Don't be afraid.
Mammography is a fast procedure (about 20 minutes), and discomfort is minimal for most women. The procedure is safe: there's only a very tiny amount of radiation exposure from a mammogram.
Get the best quality you can.
Our state-of-the art 3D mammography system provides peace of mind and reduces callbacks by up to 40% compared to 2D mammography alone. It also detects 20-65% more invasive breast cancer compared to 2D mammography, which for some women, this could mean an earlier diagnosis and a greater variety of treatment options.

American Cancer Society Resources


Mammograms are low-dose x-rays that can help find breast cancer. The American Cancer Society provides topics that can help you know what to expect.

Resources from the CDC


Learn more about mammograms, symptoms, and how to lower your risk of breast cancer.
Strength. Support. Survival.
Real women share their journey with breast cancer to raise awareness and inspire us all.
Chandra spent more than 32 years caring for patients as a registered radiologic technologist in the cardiac cath lab at South Georgia Medical Center. However, in April of 2022, Chandra would take on a new role: breast cancer patient.
"I was diagnosed with Stage I breast cancer, something that was totally unsuspecting to me considering I didn't have a family history nor was I experiencing any signs or symptoms of breast cancer," shared Chandra.
Her journey began with having her annual 3-D mammogram. 3-D mammograms are especially useful in the early detection of breast cancer. After receiving the results of a suspicious finding on her mammogram, she was referred to Dr. Harvey Miller and scheduled to have a localized needle-guided biopsy to determine if the mass was cancerous.
The results of biopsy showed that the mass was indeed cancer.
"Hearing the words, 'you have breast cancer' was more of a shock for me since I never felt a lump or had any problems."
Dr. Harvey Miller referred Chandra to general surgeon, Dr. Randall Sanders, to discuss surgery options. Chandra and Dr. Sanders decided that the best option was a partial mastectomy. Dr. Sanders performed the procedure with the removal of four lymph nodes.
After a six-week recovery, Chandra was referred to Dr. Swapna Narayana and Dr. John Devine at the Pearlman Cancer Center to determine her treatment plan. Due to the early detection, Chandra's treatment only included radiation and no chemotherapy. This was something Chandra had been praying for.
"One of the greatest obstacles for me was becoming a patient. It was hard for me to be on the other side of the fence because I am used to being the one administering the care."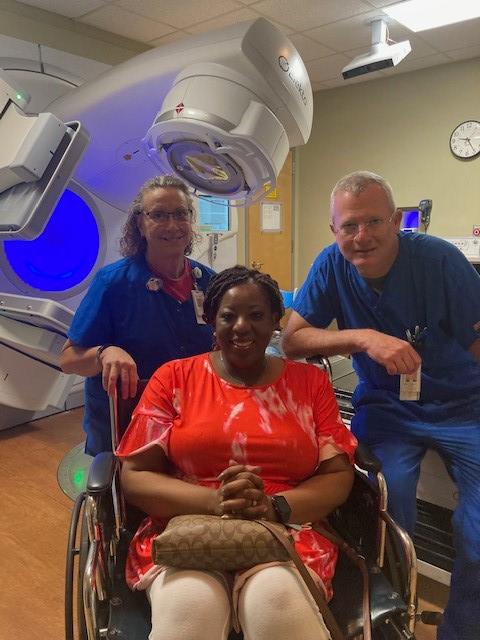 "If it were not for my faith and strength in God, I would not have made it through this journey. I was always reminded of Philippians 4:13, 'I can do ALL things through Christ who strengthens me.'"
The reversal of roles helped Chandra experience care from a patient's perspective, and it made her want to be even better at her job. Chandra says she was blessed to be treated and cared for by some of the best in the cancer center, Matt, and Brenda.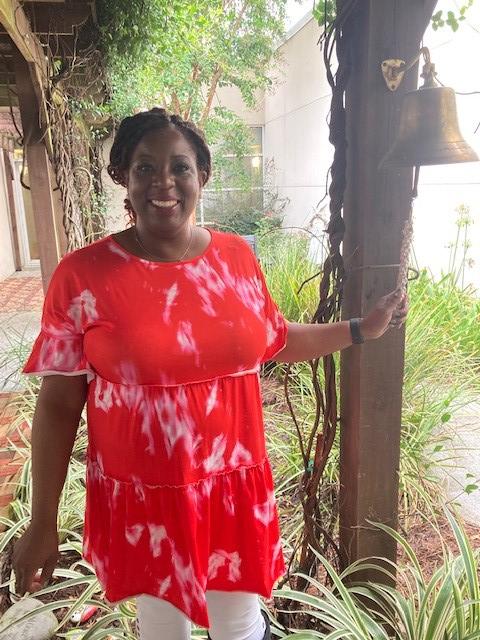 Chandra shared that "every morning I arrived I was greeted with a smiling face from the valet workers to the check-in desk, to the waiting room. That made every day of treatment easier for me. I even enjoyed conversations with other patients and hearing their stories about their journey. Socializing with others made me realize cancer does not discriminate, and we all have a common goal and that is to live the best life we can until we can no longer."
"Prior to being diagnosed, my life was good, but after receiving my diagnosis, I thought it was going to be over. Contrary to what I thought, life is still good, and I am so blessed to still be here," said Chandra.
Chandra says she will never forget what Dr. Miller said to her after sharing her biopsy results:
"I give you two times to cry, that is now and at the end. But when I see you at your next appointment, be ready to fight!"
Chandra took his advice, wiped her tears, adjusted her attitude, and began to fight.
Chandra's advice to others undergoing a battle with breast cancer: God, a positive mindset, and great support system.
"I encourage anyone who finds themselves on this journey to first have faith in God. He will be with you throughout this journey. He will give you the strength to make it through and even on days when you feel like you cannot go on, He will carry you. Secondly, have a positive attitude. Your attitude determines your altitude. Having a positive attitude makes you feel better even when you do not. A negative attitude opens doors for other negative things such as depression, and we all know nothing good comes out of depression. Try to remain as positive as possible!"
Chandra says the love and support of one's family are most important while on this journey
Lastly, Chandra encourages all women who have not had their mammogram, for whatever reason, to receive the 3-D mammogram because of the enhanced early detection.
"It helped save my life and it could save yours. Early detection is the best cure for breast cancer, so be proactive and get your mammogram."
Emily was barely 30 when she felt a small lump in her right breast. Emily was young and had no family history of any kind of cancer, so she put it in the back of her mind to enjoy the holiday season.
A few months later, she attended her annual exam. She almost let the doctor leave the room before mentioning the lump. Emily would later have a mammogram and biopsy which determined she had invasive ductal carcinoma.
"I was completely shocked, terrified, and confused," said Emily. She and her husband quickly met with Dr. Sanders and Dr. Narayana and developed a game plan.
Emily shared that the physicians "calmed my nerves and gave encouragement and reassurance from my very first appointments."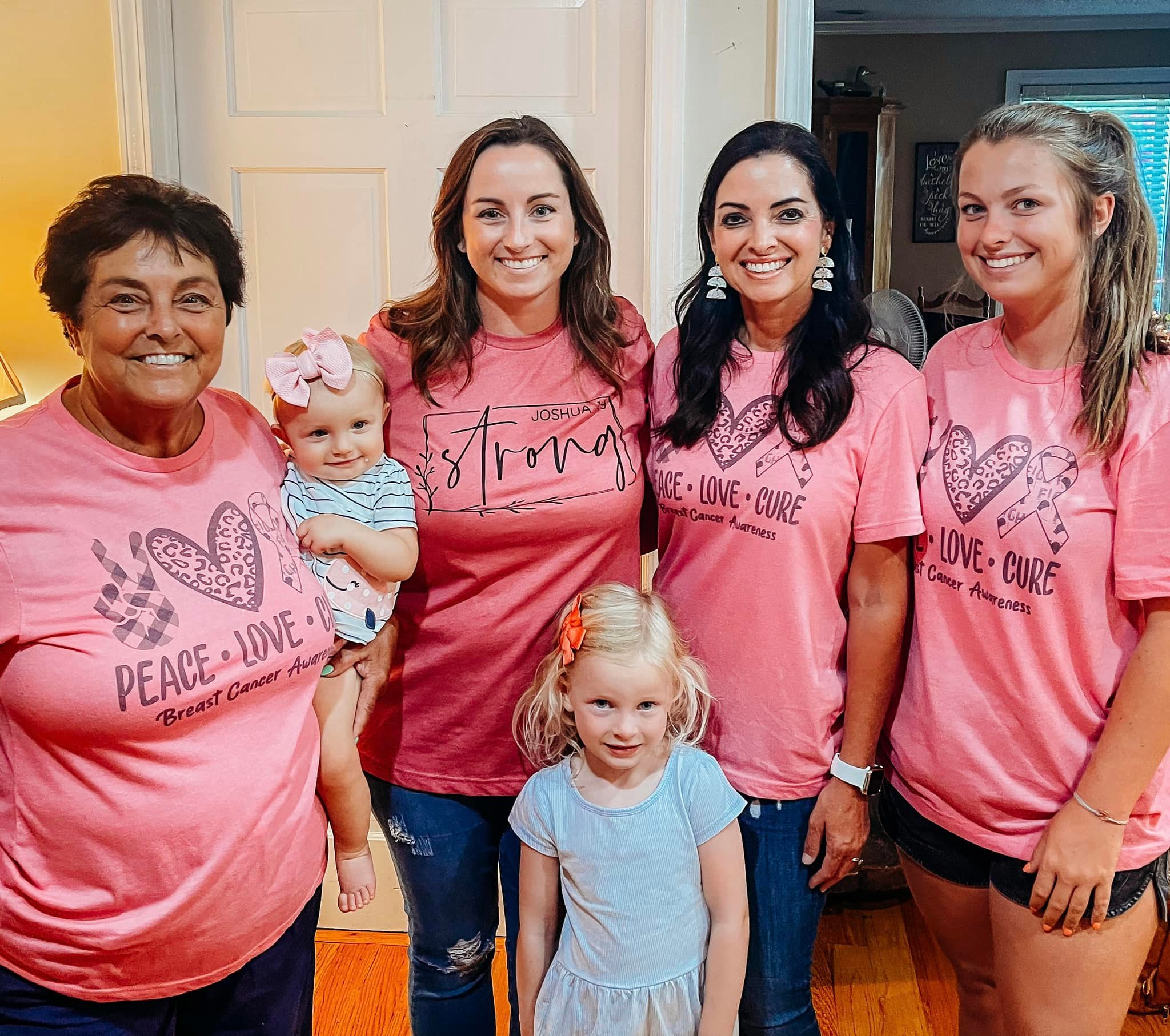 Emily received her diagnosis in February 2022, had a lumpectomy with sentinel node biopsy in April, and finished radiation in June. She is still receiving treatment but says the light at the end of the tunnel is starting to shine a little brighter.
"Although I was scared and unsure of what the future held for me for a little while, I am actually grateful for this journey that I am on. My life has definitely changed over the past few months, but in a lot of ways for the better. I have learned to slow down and take things one step at a time, and as cliché as it sounds, to really appreciate the little moments in life that make it so special," said Emily.
She says every day is a blessing and she is so thankful for this wonderful life she gets to continue living. Her biggest piece of advice to anyone fighting this battle is to stay positive!
"In the beginning, I would sometimes let my thoughts take over; the 'what ifs' would overpower everything else. I finally gave all my worries to God and decided to start waking up every day with a grateful heart. I practically forced myself to see the good in everything. I stopped Googling and started trusting in my faith and my doctors."
Emily says she listens to happy, upbeat music on the way to and from every appointment to keep her spirits up. When she needs a little extra encouragement, she prays more and turns to those who have been with her through it all: her family.
"I could not make it through this alone, and I am beyond thankful for all their support and love. I hope that my story can encourage other women to do regular self-exams and get their mammograms as recommended," she said.
Emily said she was "a little nervous going in to my first mammogram; but spoiler alert- it wasn't bad at all." She does not even like to think about the terrifying outcome that might have happened if she had delayed having the lump examined and getting a mammogram.
"Detecting breast cancer early can be lifesaving, so please check yourself regularly and get that mammogram! If you feel something in between your regular exams and mammograms, let your doctor know," Emily shared.
"No matter the outcome, you will be happy you got it checked out - I know I am."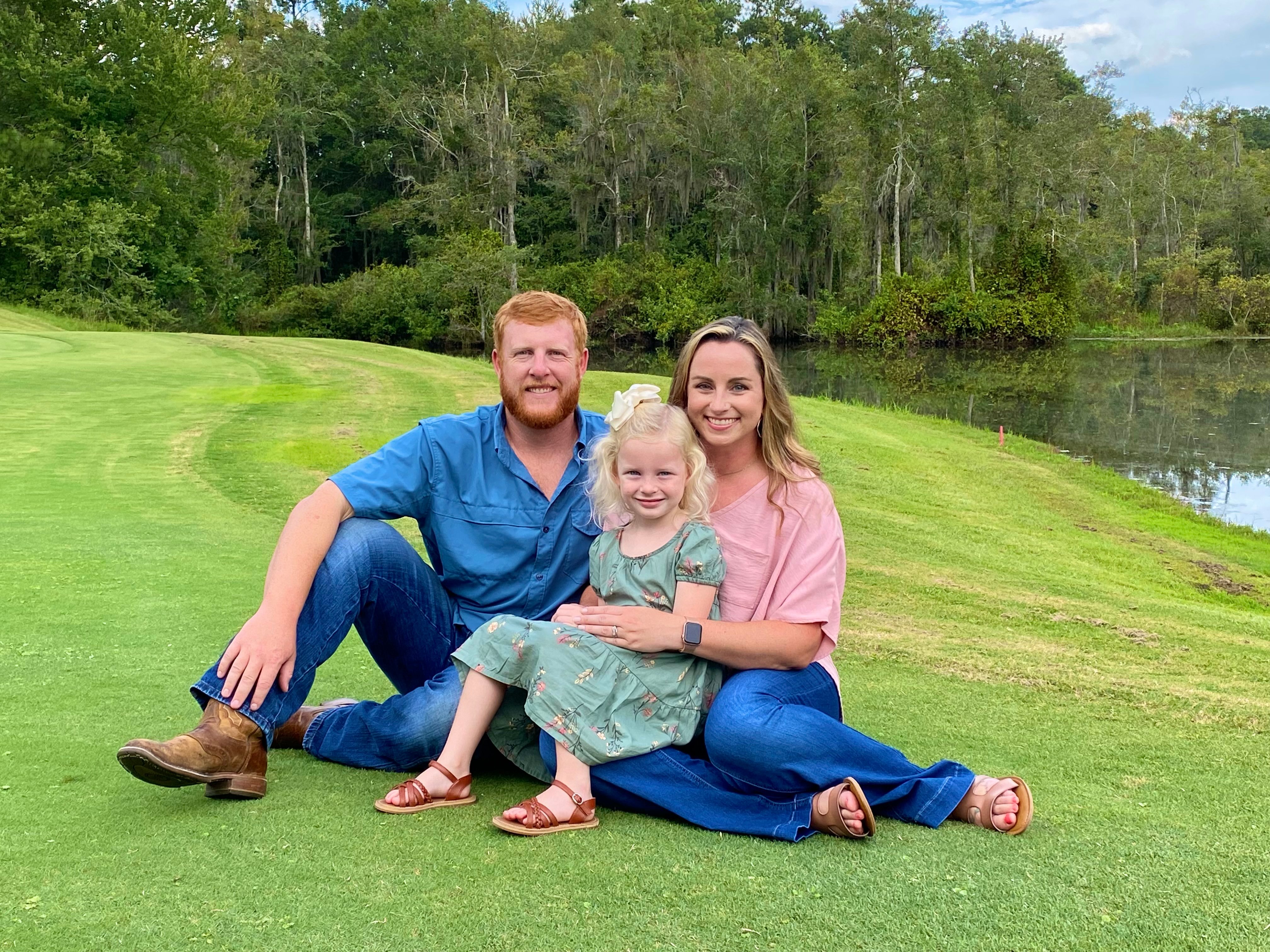 Nancy is 65 years old and a retired educator who always made sure to get her annual checkups and mammogram. However, her last mammogram was different from the others. She was told she needed additional imaging.
Nancy had a 3-D mammogram and ultrasound due to an abnormality found on her left breast.
The ultrasound confirmed she would need a breast biopsy, and a few weeks later, her biopsy confirmed that she had malignant breast cancer.
Specifically, Nancy had infiltrating ductal carcinoma and her treatment plan included a partial mastectomy and 4 rounds of chemotherapy and radiation.
She says God, family, friends, and a great, compassionate, healthcare team give her the strength to face daily changes.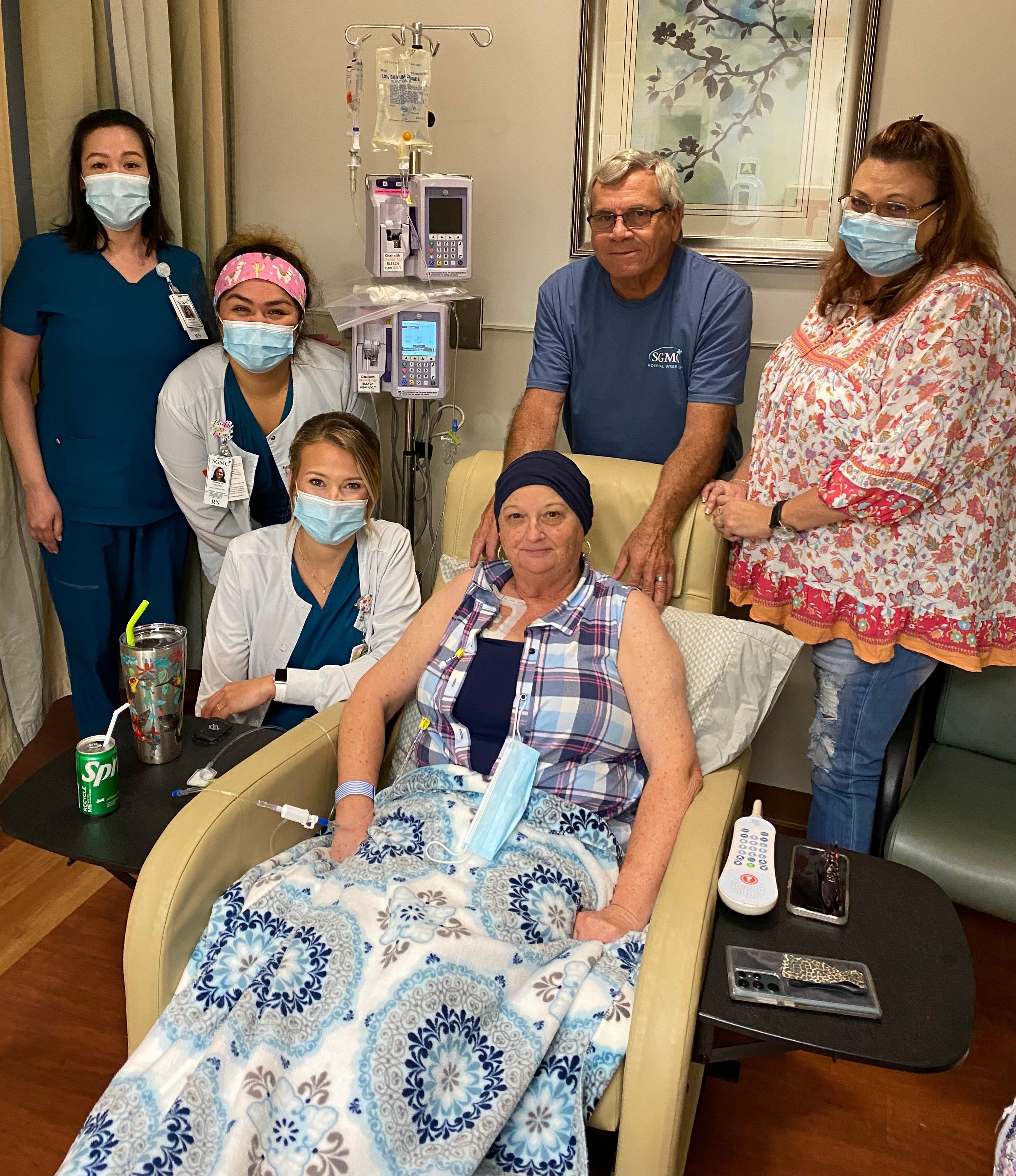 Currently undergoing treatment, Nancy says the most significant hurdles and barriers are facing the unknown.
Nausea, vomiting, hypotension, loss of taste, and loss of hair are just some examples.
"The most profound moment in my journey was realizing this IS real. I have cancer. I did not think it could happen to me. I had regular breast exams and yearly mammograms. How could I have breast cancer?"
Her advice to others is to lean on your support team, stay positive, believe everything is going to be okay. She says to rely on your belief in God and depend on Him for your strength.
Psalm 27:1 is one of Nancy's go-to scriptures and reads, "The Lord is my light and my salvation-whom shall I fear? The Lord is the stronghold of my life-of whom shall I be afraid?"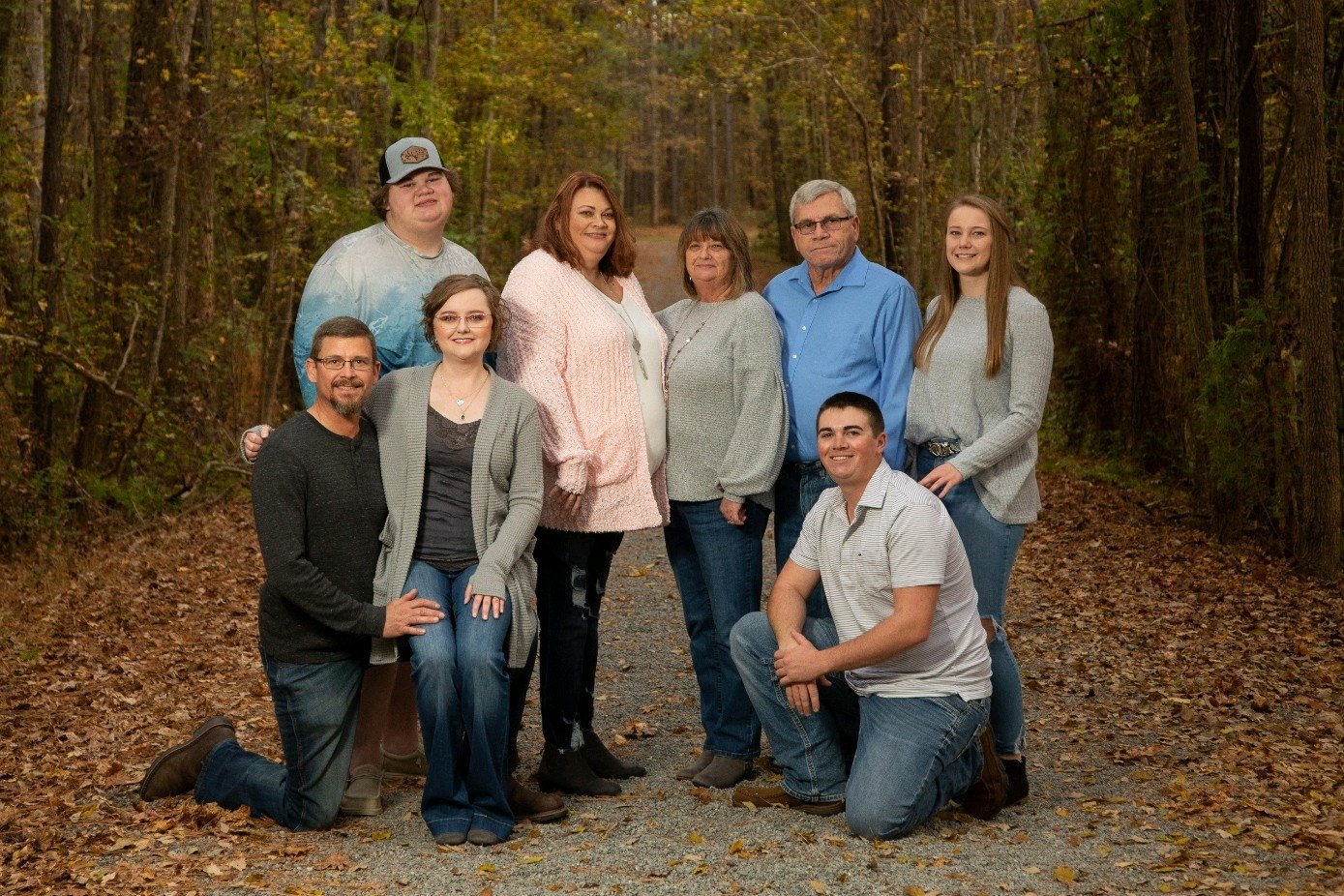 Jennifer was 46 when she noticed a lump in her left breast. She was scheduled to have her annual mammogram a few months later, but out of an abundance of caution she went ahead and went to her doctor to have it checked. Thinking it could be scar tissue, they decided to wait and get the mammogram at her already scheduled appointment.
Jennifer had annual mammograms regularly, but this one was different, it came back abnormal, and she needed further imaging and testing.
Further testing showed that Jennifer had triple positive HER2+ breast cancer and would need six rounds of chemotherapy, a year of immunotherapy, and a mastectomy.
Jennifer is currently receiving treatment and says she finds strength in her family. Jennifer is married to Jason, and they have a daughter, Reagan, and son, Jack.
"They need me, and I need them. When I received my diagnosis, my husband looked at me and said, 'I can't do this without you.'"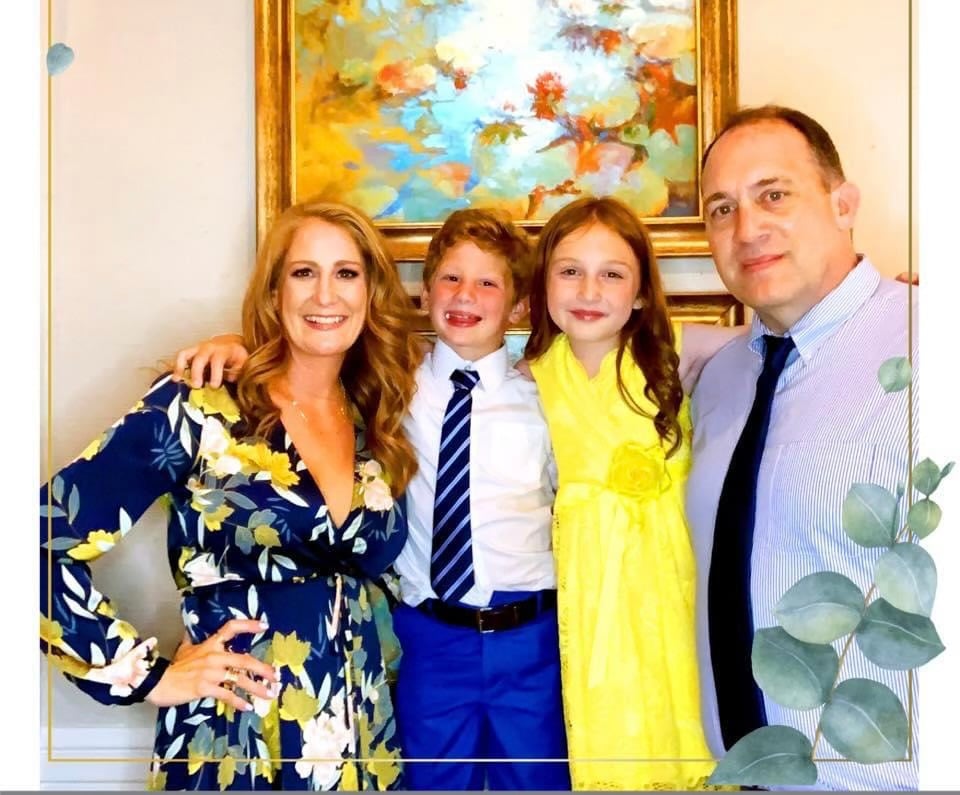 Dedicated to being there for her family, Jennifer stays busy continuing to live her life.
Receiving her treatment at the Pearlman Cancer Center makes it easier to do that. She encourages others to consider staying local for treatment. "My doctors are the ones who found the abnormality, did the testing, and guided me through a plan. It gives me comfort having them care for me as a person and a patient."
"My care team is here with me. They know I have kids at home and that they are not just fighting for me, they are fighting for them," she shared.
Jennifer encourages others experiencing similar situations to stay active, even if you were not active before. "Yoga has been huge for my mental and physical health. It's strengthened my mind and allowed me to focus on my body, and not the sickness that has come my way." She says it has also helped her balance, which had been impacted by chemotherapy.
The biggest hurdle thus far for Jennifer was losing her hair. "It was a lot more than I ever anticipated," she said. Even knowing it will grow back, hair is a huge part of a person's identity and there is no way to prepare for losing it. She encourages people to let cancer patients grieve the loss of their hair. "It's a big deal, and you shouldn't feel ashamed of grieving."
Bad days will come, but Jennifer says do not let one difficult day turn into two, because two will turn into three, and three will turn into a week. "When you have a bad day, start fresh the next day."
Jennifer encourages women to stay on top of their mammograms. "No good comes from putting it off, early detection can save your life and also offers many more treatment options."
"If your doctor says you need more testing, do it. They aren't just trying to get you to have more procedures, they are trying to save your life."