SGMC Annual Report FY2021
UNMATCHED EFFICIENCIES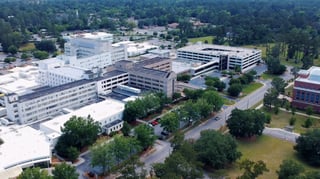 Economic Impact and Community Benefit
FY2021
Total Output/Income Generated
Total Household Earnings Generated
Total Jobs Due to Hospital Presence
Uncompensated Indigent Care
Uncompensated Charity Care
Uncompensated Bad Debt Incurred on Health Care Services Provided
Other Free Uncompensated Care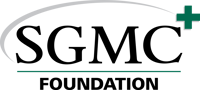 652 Total Number of Donors
491 Total Number of Employees Giving
Feeding Frontlines Meals Donated
28 Total Number of Donors
Rural Hospital Recipients — Berrien and Lanier Campuses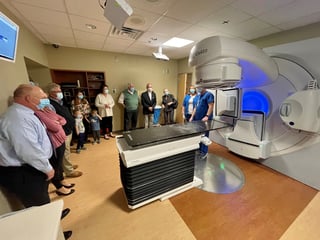 Williams' Legacy
Benefits Radiation Patients
South Georgia Medical Center announced the naming of the Bruce Williams Radiation Center located inside the Pearlman Cancer Center. The center features two state-of-the-art linear accelerators which provide radiation therapy to nearly two-thirds of cancer patients. This investment was made possible by a signature estate gift from the late Bruce Williams.
Williams, a banker at First State Bank & Trust for more than 50 years, was well-known throughout the Valdosta community for his generosity and had been a long-time donor to the health system.
"Mr. Williams' decision to leave a lasting legacy to the SGMC Foundation will have an impact on future generations of cancer patients for years to come," said Hilary Gibbs, SGMC Vice President and Chief Development Officer.
Dr. John Devine, Medical Director for Radiation Oncology, said, "The new linear accelerators provide additional capabilities, such as stereotactic radiosurgery, volume modulated arc therapy, and surface guided radiation therapy including deep inspiration breath hold."
According to Devine, this means patients receive high definition dynamic treatment of complex or challenging cancers with submillimeter accuracy. The treatment time is also significantly quicker.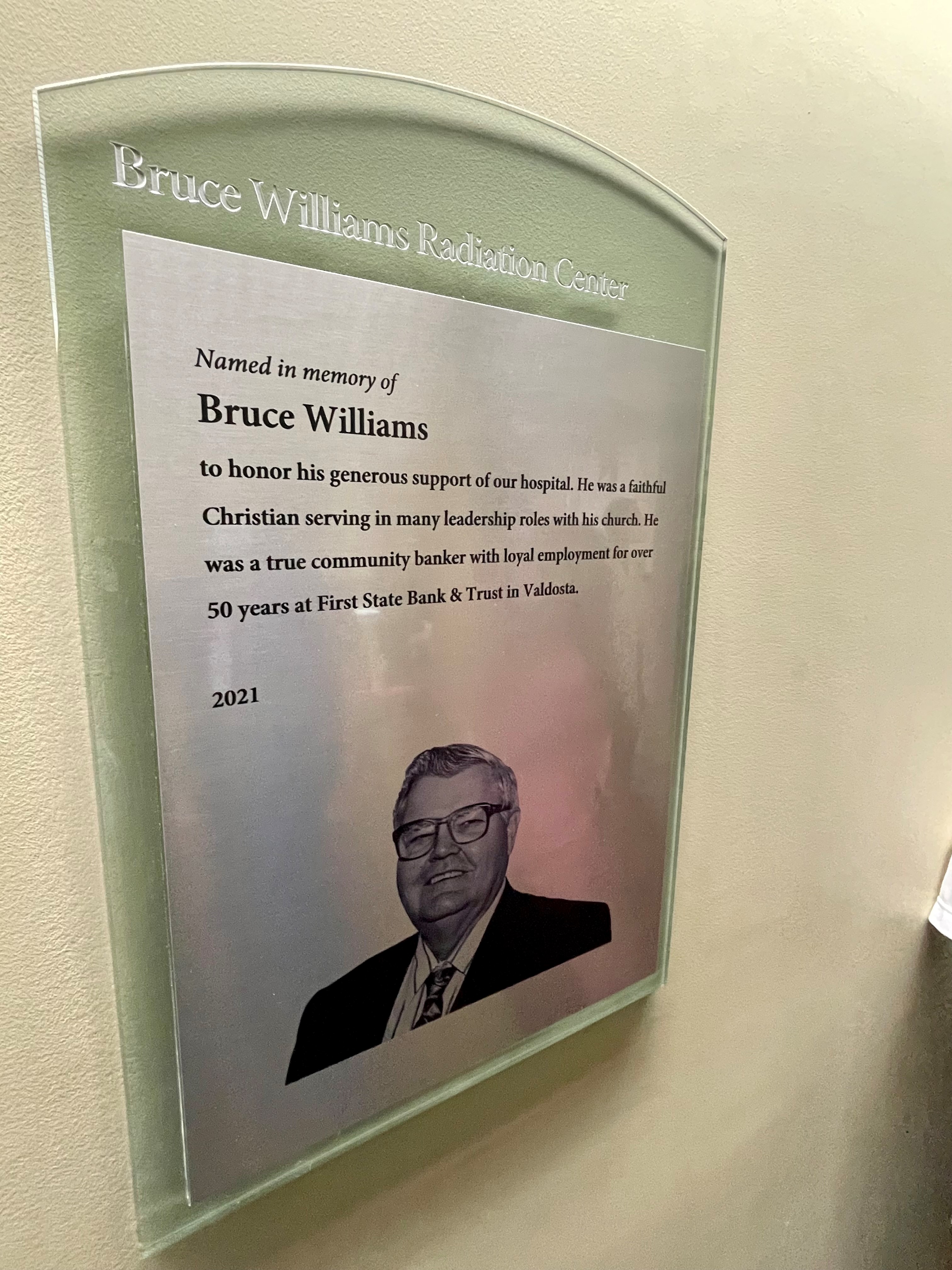 Pearlman serves a 15-county area, treating nearly 2,000 patients each year. Pearlman has performed approximately 100,000 treatments through the linear accelerator and more than 250,000 radiation oncology procedures in the last decade.
The center is accredited by the American College of Surgeons Commission on Cancer and the American College of Radiology.
For more information about the SGMC Foundation or to learn about philanthropic opportunities, visit sgmcfoundation.org or call 229-433-1071.
Make a donation
Support healthcare in our community.
Scholarships Support Rural Youth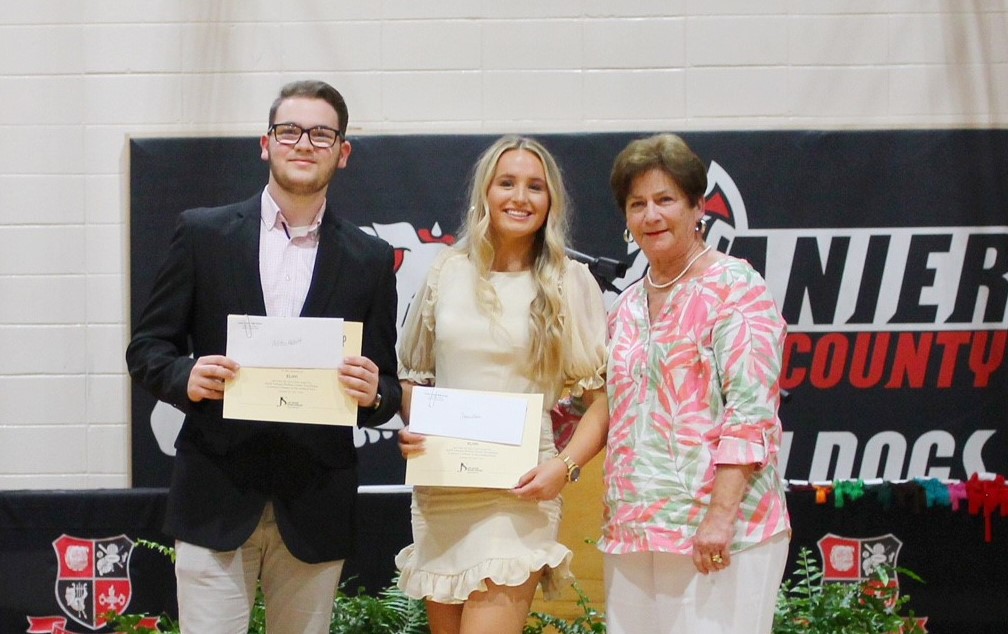 Lanier County High School Seniors Ashton Abbott and Jenna Shaw received the 2021 Jay Shaw Scholarship, awarded by South Georgia Medical Center Foundation and the Shaw Family. Both students are pursuing degrees in healthcare related fields at Valdosta State University.
To receive the Jay Shaw Scholarship, recipients must demonstrate a positive engagement in community service, exhibit strong leadership qualities, and show strength in academics.
Through this four-year undergraduate scholarship, the Foundation and Shaw Family aim to provide support for extraordinary young adults who see their college education as preparation for a lifetime of contribution to healthcare.
The Jay Shaw Scholarship was established to honor the late State Representative Jay Shaw for his dedication and commitment to quality local health care. Shaw used his position in the Georgia Legislature to advocate for health care and in particular, hospitals in South Georgia.
Donations from friends, colleagues, and family from all over the state of Georgia, as well as Lakeland residents, make the award possible.
For more information about the Jay Shaw Scholarship visit sgmcfoundation.org/shaw.
With every donation and retail sale, the Tree House Thrift Shop continues its mission to support the Hospice of South Georgia (HOSG) and Langdale Hospice House.
What started in a small space eight years ago, the Tree House has grown into a thriving retail outlet offering new and gently used clothing, housewares, books, furniture, holiday decor, and much more.
In May 2019, the Tree House relocated to a larger store and doubled its yearly profits. "We tripled our floor space and have a larger storage room," said Kevin Moore, Executive Director of Hospice Services. "People in the community have gained an awareness of the Tree House and have a passion for supporting Hospice of South Georgia."
A mostly volunteer-based operation, the Tree House has donated $281,500 to HOSG, including last year's contribution of $100,000.
Bill Meli has been a part of the Tree House since its opening in 2013 and attributes the shop's recent growth to the more prominent and larger location, plus home pick-up service.
"We've gained a lot of new customers, plus we have our regulars, and some of them come to the store every day," said Meli, the Tree House Thrift Shop operations manager. "Adding the home pick-up service has definitely helped."
Moore expects continued growth. "There is a lot of potential, and the new location gives better visibility and room to display more merchandise at competitive prices."
Established in 1987, HOSG has grown into one of the region's largest providers of home-based palliative care, grief support, and other hospice programs that enhance a person's quality of life.
Moore said that donations from the Tree House to HOSG benefit patients who are unable to pay for services.
While most people receive palliative and hospice care in the home, HOSG also operates the Langdale Hospice House, a 15-bed facility that provides palliative and hospice care.
The first of its kind in the region, the Langdale Hospice House also offers respite care. A short-term stay option, respite care provides caregivers with a much-needed break while patients receive appropriate medical care.
An affiliate of South Georgia Medical Center, HOSG serves Atkinson, Berrien, Brooks, Clinch, Cook, Echols, Lanier, and Lowndes counties.
Subscribe for updates
Be the first to know.
Since its inception in 2017, SGMC's Berrien and Lanier campuses have received nearly $7 million from generous Georgians who donated to the HEART program, a rural hospital tax credit.
This opportunity is made available through legislation that enables Georgia taxpayers to receive a state income tax credit for 100% of the amount they contribute to qualified hospital organizations.
These funds are then re-invested into the facilities to enhance patient access and care.
One major project in development is the replacement of the Emergency Department at SGMC's Berrien Campus which will expand the hospital's footprint by 26,000 square feet.
The project will replace the original three-room emergency department with a new modern eight room ED. The new, state-of-the-art facility will feature larger trauma and psychiatry patient rooms, an EMS lounge, and a staff break room. Additionally, the enhancement will feature the latest monitoring systems and furnishings, and a new lobby and entrance to the hospital.
For more information on Georgia HEART, or how you can be a part of helping our rural hospitals, call the SGMC Foundation at 229-433-1071.
We make a living by what we get. We make a life by what we give.
The people of South Georgia Medical Center pride themselves in giving back, not only in the service of health care, but also in the service of people.
In FY21, employees volunteered 14,854 hours at various agencies and organizations throughout our community. Whether it was packing food boxes at the food bank for United Way's Day of Caring, ringing the bell for the Salvation Army, donating blood, or donating stockings to Camp Rock, our employees always are willing to step up and help where needed.
Not only do they give of themselves through servitude, but they also give financially to others in need through SGMC's Care Share program, a voluntary payroll deduction that supports the United Way and designated employees experiencing dire financial emergencies.
Last year, this program received $101,358.
Of that amount, $51,429 went directly to the United Way which supports more than 20 nonprofit agencies across Berrien, Brooks, Echols, Lanier and Lowndes counties.
The remaining funds helped 44 employees who were experiencing a tragic financial hardship.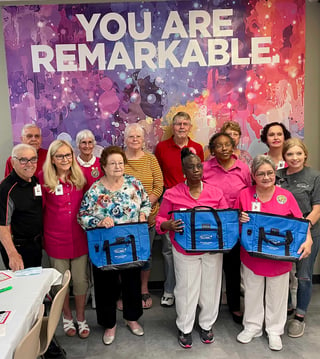 Volunteers Play Vital Role
in Healthcare Space
The Volunteer Auxilians, or Pink Ladies and Red Coats as they are commonly called, volunteer in various areas of the hospital assisting with family, visitor and patient care support as well as fundraising initiatives.
Since their return after a 14 month hiatus during the height of COVID-19, the volunteers have contributed more than 2,600 hours of service to total more than 1.5 million hours since the program's inception.
Jan Newton
President
Ora Morrison
President Elect
Evelyn Harrell
Treasurer
Dot Chambers
Vice President Programs
Doris Welch
Recording Secretary
Emerita Rodriguez
Corresponding Secretary
Barbara Thomas
Parliamentarian
Help us recognize the following volunteers for meeting service milestones
Barbara Thomas — 9,000 hours

Evelyn Harrell — 6,500 hours

Janice Langjan — 5,500 hours

Diane Belcher — 5,000 hours

Emerida Rodriguez — 5,000 hours

Mary Young Manning — 4,500 hours

Robert Tlusty and Doris Welch — 4,000 hours

Carol Griffin and Jan Newton — 2,500 hours

Donna Smith — 1,500 hours

Dot Chambers, Henry Hicks, Robert Kelly and Ora Morrison — 1,000 hours

Debbie Dowling — 900 hours

Peggy Beauvais and Cheryl Smith — 100 hours
Annual Christmas Baby Stockings
New Year's Baby Gift
Uniform Sale Fundraiser - $8,000
Interested in becoming a volunteer at SGMC?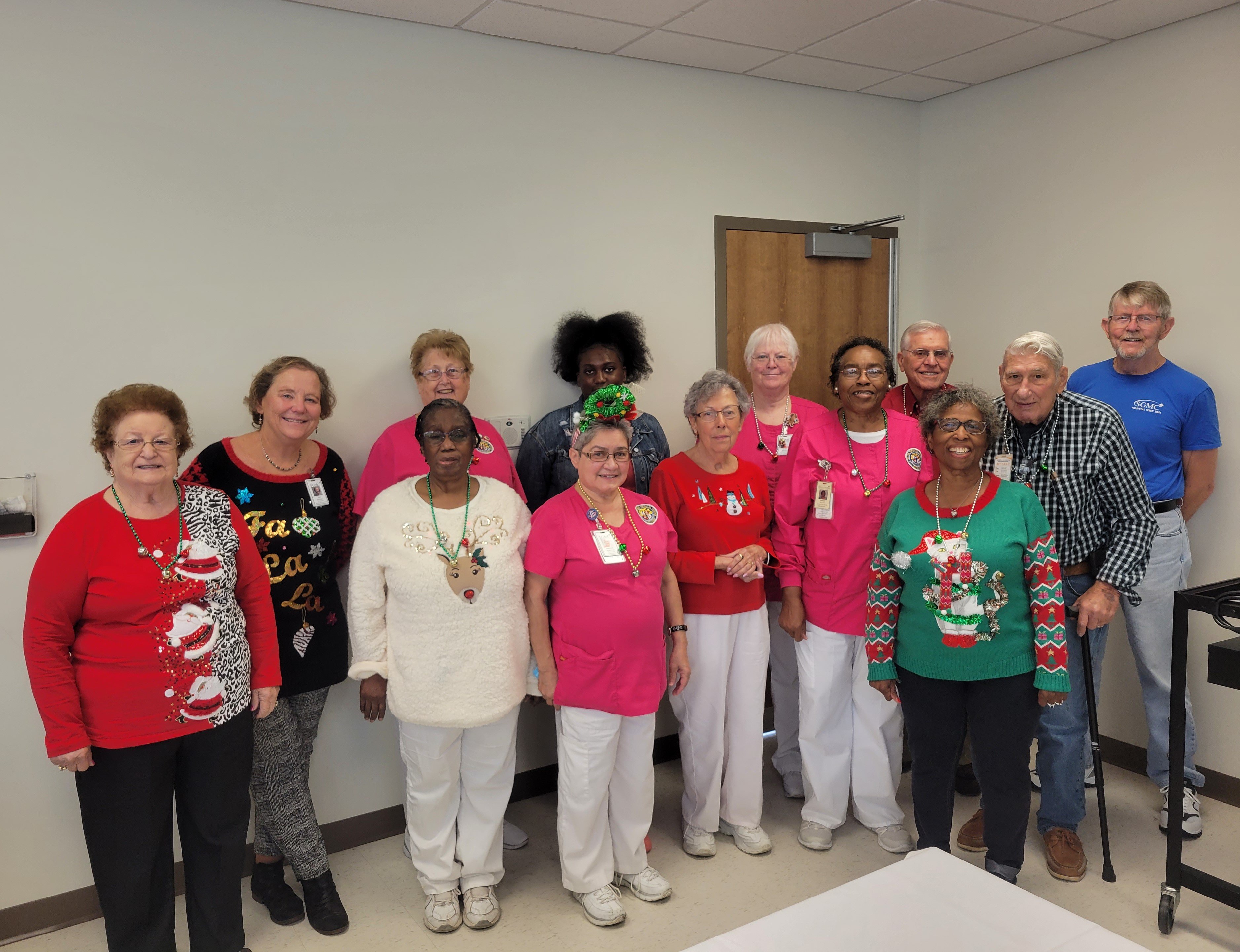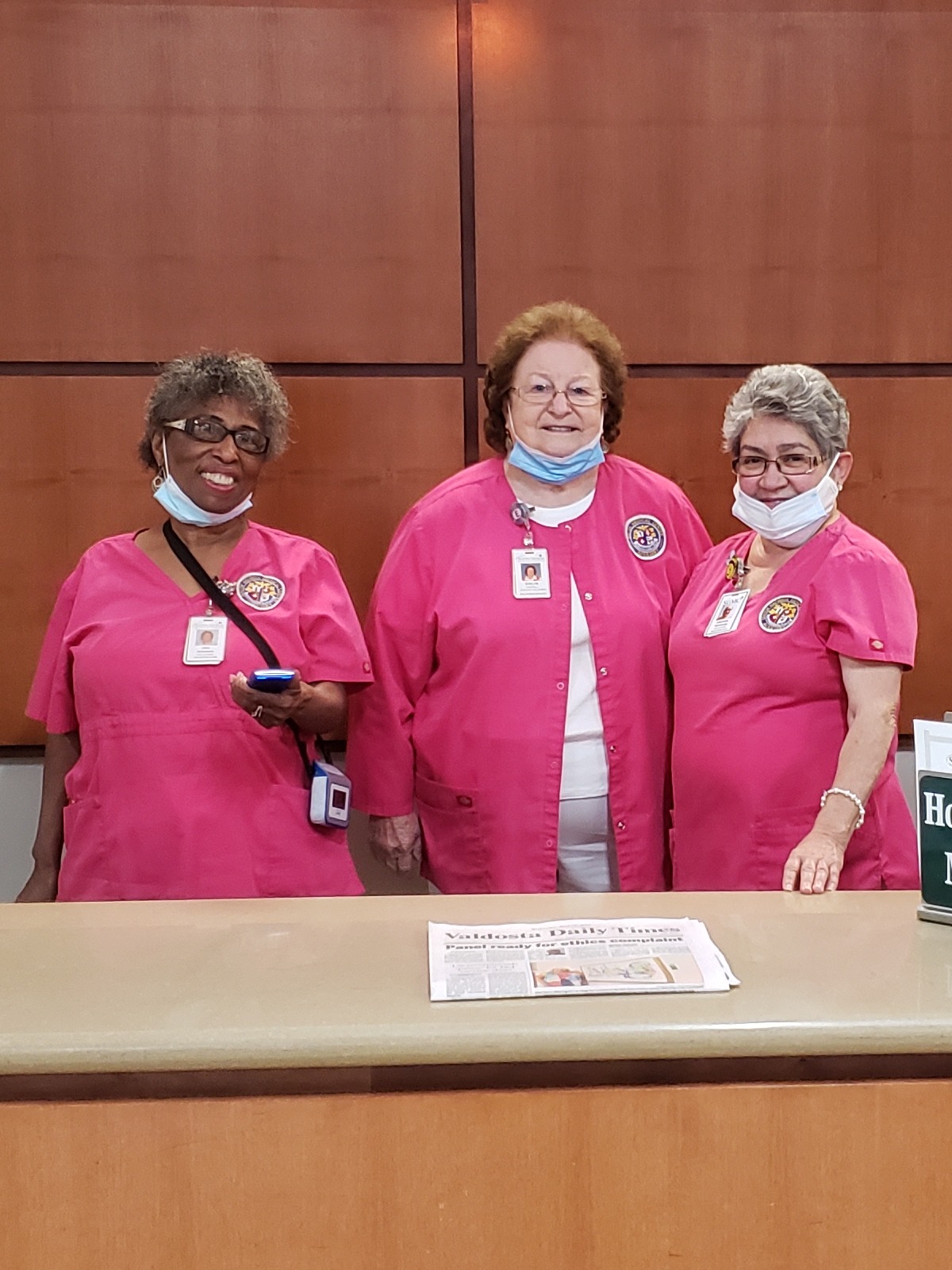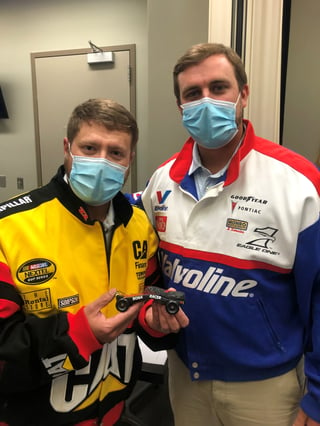 Leadership &
Employee Recognition
SGMC Executive Team
Ronald E. Dean, MBA, FACHE

President and Chief Executive Officer

Randy Smith, MS, BSN, RN, NEA-BC

Senior Vice President and Chief Operating Officer/ Chief Nursing Officer

Steven Brian Dawson, MD

Senior Vice President and Chief Medical Officer

Robert G. Foster

Senior Vice President and Chief Information Officer *Retired in Dec. 2021

John Moore, CPA

Senior Vice President and Chief Financial Officer

Johnny P. Ball, MBA, MHA, FACHE

Vice President of Marketing and Public Affairs

Jim Zacharias, MBA, FACHE, CMPE

Vice President of Network Development

Brenda Alexander, MS, SHRM-SCP

Vice President of South Georgia Physician Network and Chief Human Resources Officer

Hilary Gibbs, MEd

Vice President and Chief Development Officer
2021 Medical Executive Committee
Stephen Zeigler, MD

Chief of Staff

R. Jared Sanders, MD

Chief of Staff Elect

George S. Staton, MD

Past Chief of Staff

Elizabeth Flail, DO

Secretary/Treasurer

David Retterbush, MD

Chairman, Department of Surgery

Gregory Beale, MD

Chairman, Department of Medicine

Robert Garcia, MD

Member-at-Large, Medicine

Eric Stiefel, MD

Member-at-Large, Surgery

Pankaj Agrawal, MD

Department of Medicine Representative

Clark Connell, MD

Department of Surgery Representative
New Leaders
Ashley Romadka

Director of Human Resources

Bart Stockard

Director of Environmental Services

Don Luke

Administrative Director of Operations and Ambulatory Services

Emily Wetherington

Administrative Director of the Pearlman Cancer Center

Jason Childress

Director of Food and Nutrition

Kevin Moore

Executive Director of Hospice of South Georgia

Rick Oelkers

Director of Engineering and Facilities

Sylvia Uddyback

Director of Employee Health *Retired Feb. 2022

Tracy Hill

Director of Security

Lilliana Johnson

Director of Graduate Medical Education
Hospital Authority Board of Trustees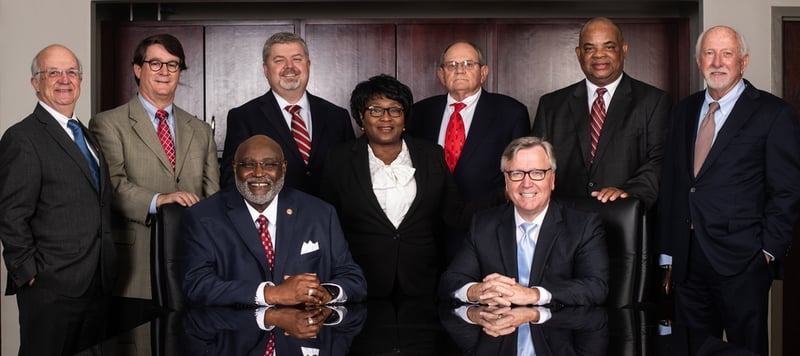 Seated left to right:
Sam Allen, Chairman and Ronald E. Dean, President and CEO.
Standing left to right:
John Roan, DDS, Vice Chairman; Tim Dame; Brian Griner, MD; Shirley J. Garland; John W. Langdale, Jr., Treasurer; Gregory Powell; Ben I. Copeland, Sr.
Heroes walk the halls of SGMC every day. Throughout the year, SGMC's executive leadership team reviews nominations submitted by patients and colleagues for the Hospital Hero award. Whether it's a physician, nurse, hospital staff member or volunteer, the Hospital Hero honoree is someone who provides exceptional care, exemplifies SGMC's values and goes above and beyond the call of duty. Each month, an honoree is chosen and recognized at the monthly Hospital Board of Trustees meeting.
Nominate someone for the Hospital Hero award:
Scarlett Rivera, January

Director of Quality Improvement and Patient Safety

Lilliana Johnson, February

Director of Graduate Medical Education

Jennifer Harrison, February

Infection Control Nurse

Pharmacy Professionals, March

Shawn Lindsey, April

Radiology Tech, Berrien Campus

Kristi Andros, May

Patient Care Technician

COVID-19 Vaccination Center Volunteers, June

Rhonda Davis, July

Nutrition Services

Respiratory Therapists, August

Nicole Clark, September

Social Worker

Tim Sirmans, October

Charge Nurse

Employees of Hospice of South Georgia, November

Women and Children's Unit, December
Dive Deeper into the SGMC Annual Report