SGMC Launches New Programs to Better Care for Your Heart
Cardiovascular disease is the single leading cause of death in Georgia, with most being premature and preventable.
South Georgia Medical Center recently launched its cardiac electrophysiology program, under the leadership of Dr. Kamil Hanna, cardiologist and electrophysiologist.
Cardiac electrophysiology offers cutting-edge treatments for arrhythmias and other potentially serious disorders affecting the heart's rhythm.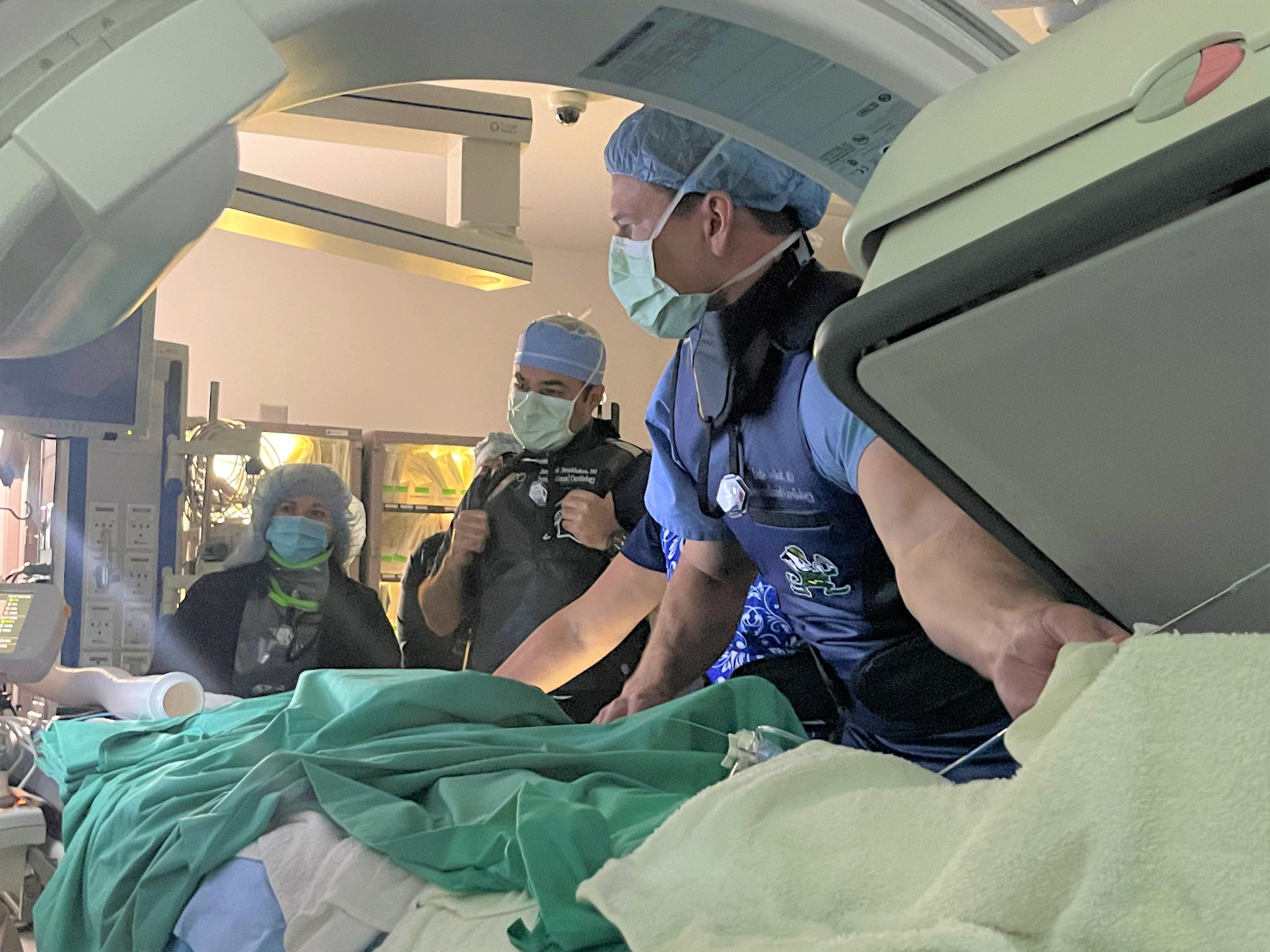 The first case performed by Dr. Hanna, the area's only cardiac electrophysiologist, used a cryoablation technique to treat atrial fibrillation.
According to Dr. Hanna, catheter ablations are performed by inserting a small flexible catheters into a blood vessel of the leg which is then guided to the heart using precision-guided imaging and three-dimensional integrated mapping systems.
Once the area is mapped out and the abnormal rhythm is identified, the abnormal electrical pathways in the heart can be cauterized with either radiofrequency (which uses heat energy) or cryotherapy (which uses cold energy) to create a scar. The scar from the cauterization cannot conduct electricity and prevents the abnormal heart rhythm.
"Cryoablation is a minimally invasive procedure used to treat atrial fibrillation when medications and other treatments aren't effective in restoring the heart's normal rhythm," said Dr. Hanna. "When it comes to catheter ablations, using cold energy offers several benefits to include less chance of affecting the healthy heart tissues and nearby structures and less pain experienced by patients."
In March of 2022, Dr. Hanna performed the first leadless MICRA pacemaker placement at SGMC. Unlike a traditional pacemaker, a leadless pacemaker is completely self-contained within the heart. This pacemaker—the size of a large vitamin capsule—is also 93 percent smaller than the size of a conventional pacemaker, and is inserted through a vein in the leg—eliminating the need for chest incision, or any resulting scars or bumps that can happen with conventional pacemakers.
Another milestone for the heart program is a procedure known as transcatheter aortic valve replacement (TAVR), which SGMC's cardiac team began offering in May of 2022. TAVR is a minimally invasive procedure that replaces a dysfunctional aortic valve without the need for open heart surgery.
This procedure is a result of a focused approach by SGMC's physician leadership to better understand and treat heart valve conditions. Patients with heart valve issues can now be seen at SGMC's Structural Heart Clinic. The clinic is led by Cardiothoracic Surgeon Dr. Randall Brown, Interventional Cardiologist Dr. Luke Seibolt, and Advanced Practice Registered Nurse Kelly Blackmon, who also serves as the valve clinic coordinator.
"If a patient's heart valve doesn't function correctly, blood flow from the heart to the body is reduced," said Dr. Seibolt. "TAVR is an alternative to open heart surgery, that can help restore blood flow and reduce the signs and symptoms from an improperly working valve."
Symptoms include chest pain, shortness of breath, fainting and fatigue.
Dr. Seibolt joined SGMC in July of 2021 after completing his TAVR training at Ascension St. Vincent Hospital in Indiana, performing 81 TAVR's last year.
As with other minimally invasive procedures, benefits include a smaller incision, lower risk of complications, less time spent in the hospital, and overall faster healing.
TAVR may be an option for people with severe aortic valve stenosis who do not want open-heart surgery or have an elevated risk of complications with open-heart surgery. Other conditions treated by the Structural Heart Clinic include aortic valve stenosis, mitral valve regurgitation, patent foramen ovale, and atrial septal defect.
"Launching the Structural Heart Clinic was truly a team effort from our cardiologists, cardiac surgeons, surgical teams, and imaging specialists. We believe collaborative care and cutting-edge treatment leads to better outcomes for our patients," said Dr. Brown.
SGMC has the region's only open-heart program, structural heart clinic, and electrophysiology program.
To learn more about SGMC's heart and vascular programs visit sgmc.org.
Subscribe for updates
Never miss a beat.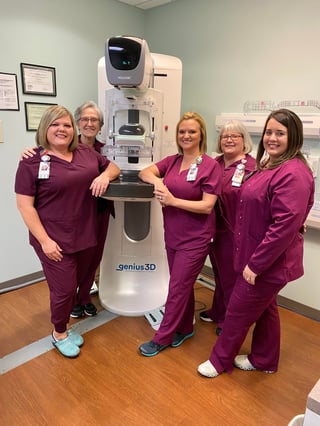 SGMC Launches Comprehensive Breast Center and Online Scheduling for Mammograms
Empowering Women
In early 2022, South Georgia Medical Center launched a new comprehensive breast center under the leadership of general surgeon Dr. Harvey Miller, Chief Clinical Quality Director at SGMC.
Dr. Miller works with multidisciplinary teams to enhance processes that support a highly reliable workflow and decrease time between imaging, diagnostics, and treatment for breast cancer.
"Our goal is to communicate early and often to alleviate any anxiety that comes from the unknown," said Miller.
Breast cancer still remains one of the most common forms of cancer found in women in the United States. According to the National Breast Cancer Foundation, 1 in 8 women in the nation will develop breast cancer in her lifetime.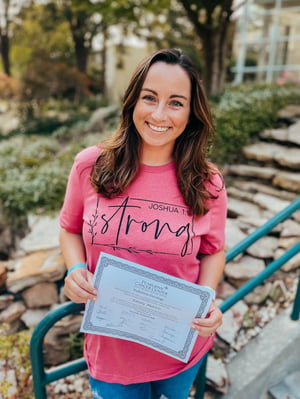 In October, alongside Breast Cancer Awareness Month, SGMC launched online scheduling for mammograms without a physician order for those that qualify.
According to the American Cancer Society, women at average risk for breast cancer should start screening every year at age 40. Women who are at high risk should get a breast MRI and a mammogram every year, typically starting at age 30. Women should consult their physician to determine their risk category.
SGMC's Women's Imaging Center and SGMC's Berrien Campus offer the very best in mammography services. Both locations offer Genius™ 3D Mammography™ exams, developed by Hologic, Inc., a worldwide leader in Women's Health. Utilizing advanced breast tomosynthesis technology, these exams are clinically proven to significantly increase the detection of breast cancers, and decrease the number of women asked to return for additional testing.
"Finding breast cancer early can really be the biggest life saver. We encourage all women starting at the age of 40 to get their yearly mammogram. We know it's not everyone's favorite experience, but we're going to do our best to make our patients as comfortable as possible," said Miller.
Should the radiologist recommend further testing, patients are contacted by SGMC's Breast Navigator, Nurse Practitioner Lori Trouille, who guides each patient throughout their journey while keeping their provider informed.
If cancer treatment is recommended, the Pearlman Cancer Center features a Breast Care Team comprised of medical professionals from many different specialties who meet to review the best evidence-based treatment options in a collective setting.
"This takes treatment to another level, as multiple therapy options can be used to cater to a patient's specific diagnosis," said Miller.
For more information or to schedule your mammogram online, visit sgmc.org.
Bringing Primary Care Physicians
to South Georgia
In July 2022, SGMC welcomed eight physicians specializing in Internal Medicine as part of the inaugural class of its residency program.
In partnership with Mercer University School of Medicine, SGMC launched the program with approval from the Accreditation Council for Graduate Medical Education in 2021.
SGMC received more than 2,000 applications for the program and conducted 103 interviews. Match Day, as it is known in the medical community, occurred in March 2022, when soon-to-be physicians learned which hospital they will be training with. Eight medical school graduates ultimately matched with SGMC and began their three-year residency training in South Georgia.
"It is a testament to the growth and excitement surrounding SGMC that we filled all eight of our residency positions in the first year of our program," said Dr. Gregory Beale, SGMC Residency Program Director.
"It is a testament to the growth and excitement surrounding SGMC that we filled all eight of our residency positions in the first year of our program," said Dr. Gregory Beale, SGMC Residency Program Director.
"We are thrilled to welcome these residents to SGMC and our community."
Residents are doctors who have completed medical school, have earned a degree such as M.D. or D.O., and practice under the direct supervision of an "attending" or senior physician. Physicians complete residencies so that they can specialize and become board certified or board eligible in a particular field.
Research shows that medical residents tend to stay close to their training site to work after they graduate. The residency program is intended to enhance recruitment and retention efforts.
"Our goal is to train medical students to serve our rural and underserved communities and increase the likelihood they will remain right here in South Georgia," shared Dr. Brian Dawson, SGMC Chief Medical Officer.
Outside of the hospital, the Internal Medicine Residency Program operates a continuity clinic at SGMC Internal Medicine on Park Avenue. Dr. Joseph Hayes serves as the Medical Director and oversees patient care and clinical skills development for the physicians. When the residency program is fully operational in 2024, there will be 24 physicians rotating through the clinic, each for a three-year term.
Patients seen by residents experience several advantages in regard to their care. Benefits include being evaluated by a resident physician who is also overseen by a Medical Director and receiving more time with their physician since residents do not yet have an established patient base. Additionally, patients play a vital role in education and training which supports the future of medicine in South Georgia.
Anyone over the age of 18 can call 229-433-5260 to make an appointment at SGMC Internal Medicine at Park Avenue. The clinic is open Monday through Thursday, 8am-5pm and Friday, 8am-noon.
To learn more, visit sgmc.org.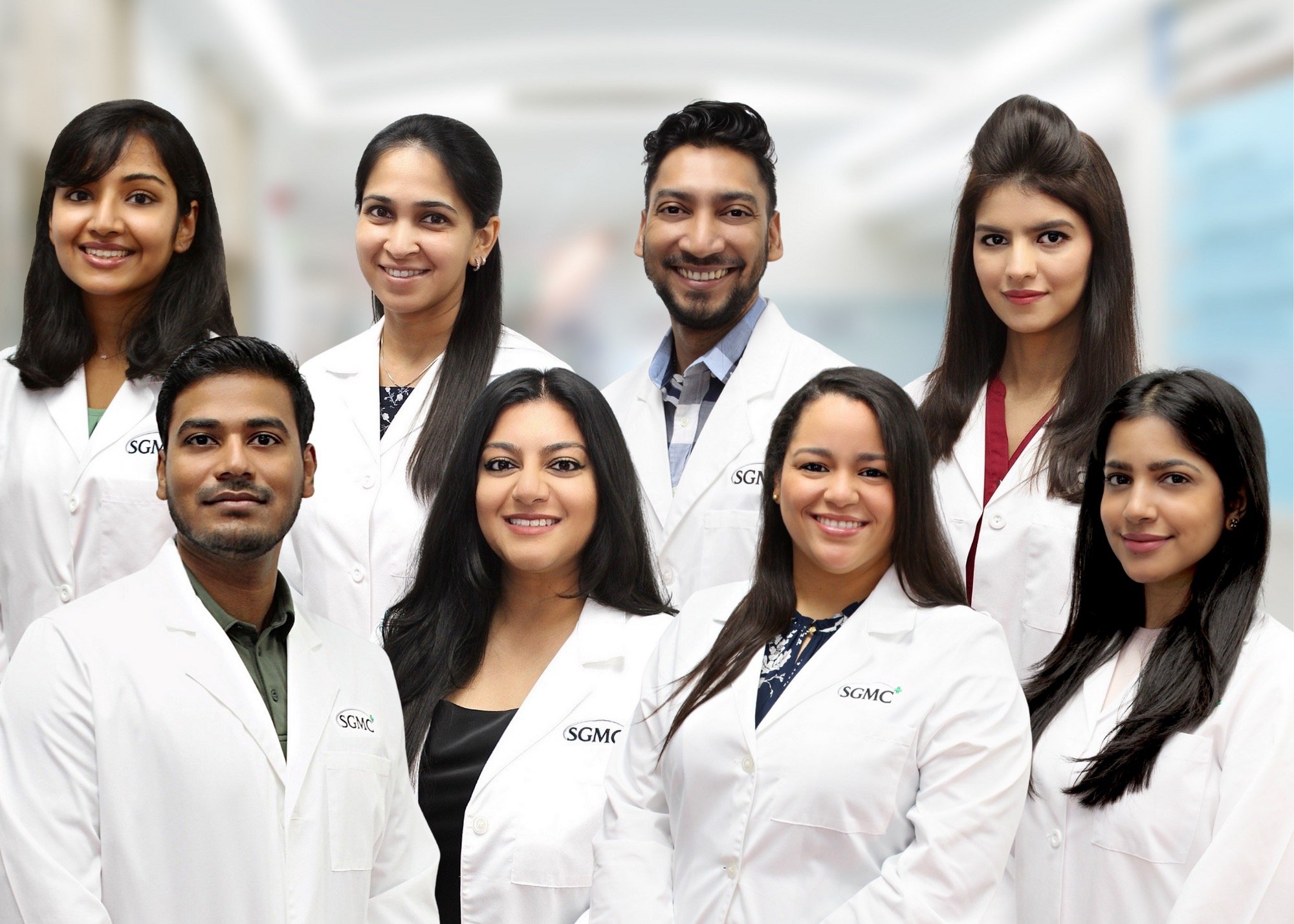 SGMC's Inaugural Class of Internal Medicine Residents includes:
Rija Chaudhary, M.D.
Venkata Gandi, M.D.
Priyanka Kalan, M.D.
Monica Kovuri, M.D.
Dwayne Mohan, M.D.
Anum Munir, M.D.
Shilpa Reddy, M.D.
Rosaida Silverio-Lopez, M.D.
Subscribe for updates
Be the first to know.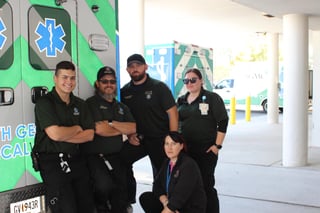 Building First Responders:
Emergency Services Outreach
When an emergency situation occurs, the best response is preparedness. SGMC Emergency Medical Services (EMS) have spent the past year focused on training, prevention, and community engagement in order to save more lives.
As a medical term, trauma is a bodily wound resulting from physical injury. This can range from minor cuts and bruises to life-threatening injuries or fractures. Trauma injuries can happen as a result of a fall, motor vehicle accident, sports, violence, and more. According to the Centers for Disease Control and Prevention, trauma is the leading cause of death for children and adults under age 44. In 2022, SGMC treated approximately 2,000 trauma patients, and 730 of those were admitted to the hospital.
Individuals certified in Stop the Bleed (First Responders, School Employees, and Industrial Business Employees)
Firefighters certified in Pre-Hospital Trauma Life Support
Trauma Patients Treated at SGMC in 2022
Trauma injuries are often seen when responding to 911 calls. The time between a firetruck and an ambulance arriving to the scene of an accident can be life or death for those involved. Because of this, SGMC began hosting classes with area first responders to share essential skills utilized in trauma situations.
Prehospital Trauma Life Support is recognized worldwide as the leading continuing education program for emergency trauma care. It covers topics such as scene and patient assessment, breathing, circulation, shock, and more. SGMC was able to assist 120 firefighters in receiving this certification.
Stop the Bleed courses teach techniques to save a life before someone bleeds out. These classes are not limited to first responders and can be utilized by anyone who finds themselves in a trauma situation. Throughout the course of the year, SGMC assisted in certifying 266 individuals in Stop the Bleed, including first responders, school employees, and industrial business workers.
SGMC EMS also made great strides in engaging with the community, particularly school-aged children. SGMC hosted its inaugural Trauma Injury Prevention event in May 2022. EMS partnered with area agencies to give children the unique opportunity to experience hands-on learning with police cars, fire trucks, ambulances, helicopters, and other emergency response vehicles. The event served to build relationships with community members and their families in the event that they need emergency care in the future.
If your business, school, or industry is interested in learning more or scheduling a training, please reach out to Emily Brown, Trauma Program Manager, at 229-259-4595.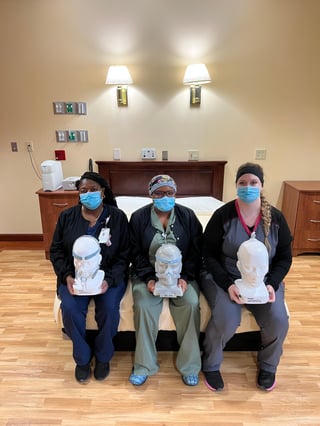 SGMC Celebrates
Revitalization of Smith Northview Campus
Patients in Lowndes County and the surrounding areas now have another hospital available for their healthcare needs.
SGMC commemorated to grand re-opening of its SGMC Smith Northview hospital in early December 2022 with a special ribbon cutting ceremony.
SGMC leadership welcomed community leaders, state and local legislators, physicians, and staff to recognize the significant role that the hospital and campus play in access to quality healthcare for the region.
In mid-December, SGMC Urgent Care relocated from its position within the hospital to another building on the SGMC Smith Northview Campus to provide more visibility and convenient access for patients.
In January 2023, SGMC fully re-opened the Smith Northview hospital, featuring a 12-bed emergency room with 24/7 coverage from emergency-medicine board-certified and residency-trained physicians. In addition, the hospital houses 45 acute inpatient care beds.
According to SGMC Emergency Department Medical Director Dr. Clark Connell, the hospital reopening could not have come at a better time as hospitals across the state have seen a steady increase in patients.
"The foresight of SGMC's leadership team and our elected officials to identify the need to expand access to healthcare in our area and their dedication to see the project through is commendable," said Connell. "It was no small feat, and our team looks forward to providing more choices for high-quality healthcare to those in our region."
According to Ronald E. Dean, SGMC President and Chief Executive Officer, creating unequaled access is a top priority for the health system because convenience and capability matter.
"SGMC Smith Northview significantly enhances access to our remarkable team of 600 plus providers and the most comprehensive healthcare system in the region," shared Dean.
Furthermore, patients who receive care at any SGMC location or facility receive access to their own MyChart account and application (commonly referred to as an Electronic Health Record) that allows for a centralized record of their information that integrates seamlessly with all care provided to them across the health system.
In addition to inpatient and emergency services, the Smith Northview Campus offers specialty services such as a walk-in lab, outpatient imaging, outpatient surgery, a diagnostic sleep center, a neurology clinic, and the aforementioned urgent care.
For more information visit sgmc.org.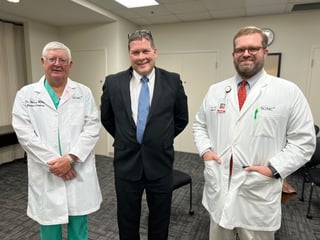 Recruiting the Best Physicians
to Join SGMC
Unequaled access to quality healthcare if one of the main pillars of South Georgia Medical Center. SGMC's Physician Network, established in 2020, has continued to expand its physicians and specialists to take care of patients in the region.
According to Brenda Alexander, SGMC Vice President of Network Development and Chief Human Resources Officer, the network's growth is due to the recruitment of specialists from across the country and the addition of well-respected community physicians.
The most recent Community Health Needs Assessment showed that obesity, smoking, and heart disease are more prevalent among adults in SGMC's service area than the state average. In addition, data shows a steady decline in the number of adults who have a primary care provider.
In response to these findings, SGMC's Physician Network has evolved to include 26 physicians specializing in Internal Medicine or Family Medicine, including 8 resident physicians.
The launch of the Internal Medicine Residency Program, in partnership with Mercer University School of Medicine, seeks to create a broader pipeline of physicians in rural Georgia. The inaugural class of 8 physicians joined SGMC in summer 2022. At capacity, the program will host 24 physicians who will complete their internal medicine specialty training at SGMC, in both the hospital and clinic setting.
In addition to primary care, the network includes more than 40 specialists in areas such as cardiology, surgery, cancer, neurology, orthopedics, and more. This ensures that patients do not have to travel out of the region to receive their care, which can be costly and stressful for them and their families.
SGMC's recruitment efforts yielding especially great return in the field of cardiology last year, welcoming Dr. Kamil Hanna, cardiac electrophysiologist, and Dr. Luke Seibolt, TAVR trained interventional cardiologist. The addition of these specialists allowed SGMC to launch the region's only cardiac electrophysiology program, as well as the only structural heart center.
"We are very proud of the growth we've experienced in physician recruitment. We are keenly aware that these physicians can choose to go anywhere to practice in their field, and they have chosen to call SGMC home," said SGMC Chief Medical Officer Dr. Brian Dawson. "With the kickoff of the residency program this past year, we know that the future of healthcare in South Georgia is bright."
For the complete list of providers at SGMC, visit sgmc.org.
New providers in FY22
Dr. Richard Rickman, Internal Medicine (Jan 22)

Dr. Kamil Hanna, Electrophysiology (Jan 22)

Dr. William Nash, Family Med Nashville (March 22)

Dr. Priyanka Kalan, Internal Medicine (July 22)

Dr. Venkata Gandi,

Internal Medicine (July 22)

Dr. Shilpa Reddy,

Internal Medicine (July 22)

Dr. Anum Munir,

Internal Medicine (July 22)

Dr. Rija Chaudhary,

Internal Medicine (July 22)

Dr. Dwayne Mohan,

Internal Medicine (July 22)

Dr. Monica Kovuri,

Internal Medicine (July 22)

Dr. Rosaida Silverio-Lopez,

Internal Medicine (July 22)

Dr. Saif Borgan, Endocrinology (July 22)

Dr. Joseph Hayes, Internal Medicine (Aug 22)

Dr. Edward Distler, Interventional Cardiology (Aug 22)

Dr. Howard Bowers, General Surgery (Aug 22)
Dive Deeper into the SGMC Annual Report